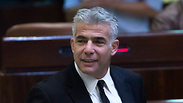 Former minister Yair Lapid
Photo: EPA
Former Finance Minister Yair Lapid, who was fired by Prime Minister Benjamin Netanyahu on Tuesday evening, addressed a conference on alternative energy Wednesday evening, in his first public remarks since early elections were announced.

With 104 days left before Israelis head to the polls, on March 17, Lapid lashed out at Netanyahu, accusing him of embarking on an "unnecessary election campaign" because he was "disconnected from the people."

Lapid said Netanyahu was blocking young Israelis from attaining homeownership because he was "out of touch" with their aspirations.

Parsing his perceived failings of Netanyahu's governance, Lapid listed a series of issues on which the two disagreed, including the deterioration in ties with the US. "You critically damaged our relations with the White House. Senators have personally called me to ask about the disconnect. You once understood America, Mr. Prime Minister, but times have changed and you have been left behind."

"The coming elections are about one question: who will lead the government amid the massive challenges facing Israel ?" Netanyahu told a meeting of his Likud party earlier on Wednesday.

"The Likud is the only party that should be considered... that is the main lesson from recent years and that is this elections' challenge" he said. Netanyahu's personal victory is almost assured, and thus his comments are an attempt to shore up support for his party.

Netanyahu announced the elections in an address to the nation Tuesday evening, shortly after he fired Finance Minister Yair Lapid of Yesh Atid and Justice Minister Tzipi Livni of Hatnua. Lapid and Livni have been fiercely critical of the Netanyahu government's policies, a fact that did not go unmentioned in the prime minister's speech, in which he lambasted both ministers for what he termed relentless attacks that paralyzed the government.