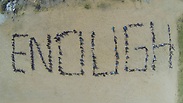 300 teenagers make human sign for Pollard's freedom.
Photo: Omer Shapira
Following news that convicted spy Jonathan Pollard was hospitalized after losing consciousness on Friday, Prime Minister Benjamin Netanyahu once again made attempts to help set the dual US-Israeli spy free over the weekend.

During a cabinet meeting on Sunday, Netanyahu announced he had spoken with Pollard's wife Esther and US Secretary of State John Kerry. "I told him that the uncertain state of Jonathan's health is an additional reason to set him free," said Netanyahu of his conversation with Kerry.

"The time has come, for many reasons, after 30 years, for Jonathan Pollard to be released and to become a free man. He has already paid his debt and he at least deserves the same treatment that others in his position have received. We will not refrain from acting until we bring him home, here to the State of Israel," said Netanyahu.

The Conference of Presidents, a central coordinating body that represents 50 US Jewish organizations, sent a letter to President Barack Obama requesting Pollard's immediate release and also issued a statement on its Facebook page on Sunday.

"The reports of Jonathan Pollard's hospitalization, following his loss of consciousness underscores the need for immediate action for his release. It is regrettable and inexplicable that the Parole Board denied his application after serving 30 years, much of it in solitary confinement, far beyond anyone accused of a comparable crime," the statement by the Conference of Presidents read.

In a letter that was sent to President Obama the organization wrote, "The Commission's allegation that Mr. Pollard's espionage 'was the greatest compromise of US security to that date' is false; and not supported by any evidence in the public record or the classified file. Yet it was this fiction that the Parole Commission cited to deny parole."

The letter was signed by high-ranking US officials including former director of the CIA Robert James Woolsey, former chairs of the Senate Intelligence Committee Senator Dennis DeConcini and Senator David F. Durenburger, and Former US National Security Advisor Robert C. MacFarlane.

Pollard was a civilian intelligence analyst for the US Navy when he gave Israel thousands of classified documents, the extent of which has never been fully revealed. Pollard, now 60, was arrested in 1985 and later sentenced to life in prison. Several Israeli requests to have him released have been rejected. He will be eligible for parole next year.

It remains one of the most embarrassing and damaging episodes in Israel-American relations and many details of the case remain a mystery nearly 30 years later.

Just last month Pollard filed a parole request, only to have it rejected by US officials, who said his release does not befit the severity of his crime.

In an interview with Channel 2 TV's investigative program "Uvda," former Mossad agent Rafael "Raful" Eitan – who was Pollard's handler - gave a rare glimpse into the events leading up to his arrest.

Eitan said that once Pollard began to raise suspicions, he gave him the signal for a prearranged escape plan that would get him safely out of the United States.

Instead, Pollard waited three days before arriving unannounced at the Israeli embassy, asking for asylum.

"I got the call that he is waiting at the entrance of the embassy ... and I immediately said 'throw him out.' I don't regret it," he said. "The minute the man decided to come to the embassy .... he decided for himself that he is going to prison."

Eitan took the heat for the fiasco, saying he acted on his own and resigned as head of an Israeli intelligence agency known as the Scientific Relations Office - which was later disbanded entirely.