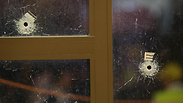 The scene of a terror attack at a Jerusalem synagogue in which 5 Israelis were killed
Photo: Gil Yohanan
An overwhelming majority of Palestinians support a recent spate of attacks on Israelis amid heightened tensions over the most sensitive holy site in Jerusalem, according to an opinion poll released Tuesday.
The poll also found that more than half of Palestinians support a new uprising against Israel, and that the Hamas militant group would win presidential elections if they were held today.
Palestinian pollster Khalil Shikaki said the results reflected Palestinian anger over Israeli statements about the Jerusalem holy site, which is revered by Jews and Muslims, as well as a loss of hope following the collapse of US-brokered peace talks and Israel's recent war with Hamas in the Gaza Strip.
"There is an environment in which violence is becoming a dominant issue," said Shikaki. "This seems to be one of the most important driving forces."
There has been a spate of attacks in Jerusalem over the past month and a half, at a time of rising tensions over the contested holy site, revered by Muslims as Noble Sanctuary and by Jews as the Temple Mount.
Right-wing MKs have become more vocal in recent months about demands that Jews be allowed to pray at the Muslim-run site, which is home to the Al Aqsa Mosque and iconic Dome of the Rock.
Many Palestinians fear this is a pretext for a gradual Jewish takeover - a claim Israel denies.
The poll found 86 percent of respondents believe the shrine is in grave danger from Israel. It said 80 percent supported individual attacks by Palestinians who have stabbed Israelis or rammed cars into crowded train stations.
The Palestinian Center for Policy and Survey Research interviewed 1,270 people in the West Bank and Gaza last week. The poll had an error margin of 3 percentage points.
Rocket fire
A different poll by the Palestinian Center for Public Opinion, also released Tuesday, asked about the aftermath of Operation Protective Edge.
A little over half of Palestinians (53.2 percent) said they believed the Palestinian Resistance won its two recent armed conflicts with Israel, and 27.3 percent said they didn't think Hamas came out on top.
When asked if the Gaza Palestinian factions achieved their goals during Protective Edge, only 34.8 percent said it did to a high degree, while 41.5 percent said the goals were achieved to a moderate degree. Meanwhile, 13.9 percent said goals were reached to a low degree and only 3.6 percent said no objectives were achieved.
The Palestinians were also asked about the means of resistance, with 59.6 percent supporting rocket fire at Israel, only 5.1 percent oppose it and 21.3 percent were unsure.
Only 10.9 percent of respondents agreed with the statement "Firing rockets is a bad idea because it escalates the conflict with Israel and exposes Palestinians to danger," while 57.9 percent agreed with "firing rockets is a good idea because this might be the only weapon against the Israelis that would make the Israelis feel what we are suffering from them," and 22.9 percent did not agree with either.
The Palestinians on Monday officially became observers at the summit meeting of the 122 countries that are members of the ICC, a move they say is a step toward joining the world's permanent war crimes tribunal.
Palestinian President Mahmoud Abbas has threatened to seek membership in the ICC in order to press charges against Israel for alleged war crimes.
The poll found that the great majority of Palestinians support going to the International Criminals Court at the Hague to file charges against Israeli politicians and military leaders, with 83.3 percent of respondents in favor of the move, and only 6.3 percent opposing it.
A random sample of 1012 respondents of Palestinians aged 18 and above was polled their homes, face-to-face, in 170 election sites, 126 in the West Bank and 44 in the Gaza Strip. 49.4 percent of respondents were women, and 50.6 percent were men. The margin of error was ±3.08 percent.