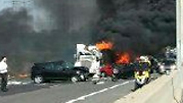 Crash along
Photo: MDA paramedics
A crash between two trucks Wednesday along the main highway connecting Tel Aviv to Jerusalem left one man dead and caused a major fire.

Along the overlap between Route 6 and Route 1, a truck carrying flammable chemicals crashed with another truck that was hauling new cars, causing the Pentanol-laden truck to burst into flames.

Photo: Tazpit (צילום: מרדכי סעייד - סוכנות תצפית, חטיבת דובר המשטרה)

MDA paramedics who arrived at the scene said the driver of the burning truck was trapped inside and could not be reached. It was later reported that he died as a result of his wounds. A one kilometer radius has been set up around the area, amid fear that the chemical will spread.

Video: Police (צילום: חטיבת דובר המשטרה)

An MDA source said that accident had been between "a truck transporting hazardous materials, which caught fire, and a truck transporting cars, which was overturned."




Motti Freiberg, an advisor on hazardous materials, explained that "pentanol is a flammable liquid with several industrial uses.