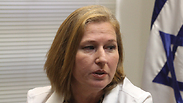 Hatnua Chairwoman Livni
Photo: Ido Erez
After being heavily courted by both Labor and Yesh Atid – and in the wake of several surveys predicting Hatnua will not receive enough votes to pass the threshold – faction chief Tzipi Livni announced she will join forces with Labor ahead of the 2015 elections.

The current Labor leader, Herzog, took to the podium to announce the dramatic upheaval in the political landscape. "We offer a leadership model of another kind. A model of joint leadership, where everyone works together for the future of this country."

Labor delegates convened for a special session at the faction's headquarters in Tel Aviv to approve the joint list. Afterwards, the party's Knesset members released a statement of support for the move. "I am proud of my faction members for the support of the party chairman and his decisions. Today we laid the groundwork for the revolution in 2015," said Labor MK Eitan Cabel.

The center-left leader, who vowed to replace Prime Minister Benjamin Netanyahu, promised the united front would "operate in accordance with the intentions of the Declaration of Independence."

Livni supported her new political partner, saying "Herzog will be a great prime minister" and claimed "these elections are an opportunity for Israel to go back to what it once was. We are working together for the citizens of Israel and against the right-wing extremist parties."

Herzog and Livni agreed on rotating the leadership of their bloc, if they win the upcoming elections. Aside from Livni's reserved spot on the list, three additional positions will be saved for Hatnua members – eighth and 16th, which are considered attainable, as well as the 21st, which remains unlikely.

Livni met with Yesh Atid Chairman Yair Lapid on Tuesday night, but the Hatnua chairwoman has apparently decided to cast her lot with Isaac Herzog's Labor party.

Livni, who originally entered the Knesset as a Likud member, heads Hatnua – which she founded two years ago when she split from Kadima, a party which was splintered from the Likud when Ariel Sharon decided to support a unilateral disengagement from Gaza.

Former Labor chairwoman Shelly Yachimovich said she was pleased by the union. "It is clear that, as of tonight, the age of Netanyahu is over. This is an important, intelligent merger which signals a wave of hope."

Yachimovich, who was unseated by Herzog in the previous party primaries, said, "Every so often there is a miracle, the whole becomes more than a sum of its parts, and the political picture is changing rapidly."

She added: "Netanyahu has a sane and smart replacement - Isaac Herzog. This is a fantastic start to an election campaign, at the end of which a good government which carries for the people will be formed."

The Labor party will convene Sunday to approve the agreement.

A Channel 10 poll released on Tuesday found Livni and Herzog together would win 22 mandates, while Likud – whether led by Prime Minister Benjamin Netanyahu or former interior minister Gideon Sa'ar – would get 20 mandates.

A separate survey, carried out by the Panels Politics research institute, said that were elections to take place today, the Likud would receive 21 seats, compared to 23 that Livni and Herzog would win together.

Without Livni, Labor would receive only 17 seats, according to the poll, which surveyed 500 adults based on a sample of the Israeli population, with a margin of error of up to 4.5%.