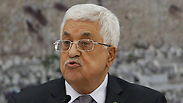 Palestinian President Abbas
Photo: Reuters
A senior Palestinian official said Friday night that international and regional efforts were responsible for the decision to delay a convention of the Palestinian leadership to Sunday.

According to the source, the efforts were intended to prevent an escalation in the area following the death of senior Palestinian minister Ziad Abu Ein, whose autopsy resulted in separate conclusions from the Israeli and Palestinian pathologists.

The official also claimed a link between the postponement of the meeting and an expected vote in the United Nations Security Council on a resolution calling on Israel to withdraw from the West Bank by the end of 2016.

He said the Palestinian leadership did not want to make hasty decisions that may influence their diplomatic efforts. In that light, it is of note that Egyptian President Abdel Fattah al-Sisi made a surprise visit to Amman to meet with Jordanian King Abdullah.

The official announcement on the postponement of the meeting did not include an explanation, but various Palestinian officials had earlier said they believed the delay was intended to allow for a more comprehensive internal debate on the consequences of joining international conventions to pave the way for membership in the International Criminal Court.

The hesitation over the potential move is the fallout as membership in the court opens up the Palestinians to potentially be targeted by litigation.

Palestinian Authority sources believed that the delay was intended to wait for the meeting between US Secretary of State John Kerry and Israeli Prime Minister Benjamin Netanyahu in Rome on Sunday – in which the two are expected to discuss a French resolution to recognize a Palestinian state in the Security Council.

Top Palestinian negotiator Saeb Erekat said the postponement permitted the chance for Palestinian Authority leadership to examine potential courses of action.

Next Wednesday the signatories to the Geneva Convention will meet in Switzerland; the Palestinians have considered demanding the members extend the Fourth Convention to the West Bank, East Jerusalem, and the Gaza Strip.

Erekat stressed that at the planned meeting the Palestinians will discuss whether to make the demand of the Geneva signatories and at the same time urge the Security Council to pass an Arab-Palestinian resolution on a timetable for an Israeli withdrawal from the West Bank – or wait for the success of the former before demanding the latter.

While in Colombia, Kerry said he hopes upcoming talks with Netanyahu and European officials will avert the possibility of a UN Security Council clash over proposed resolutions dealing with the Israeli-Palestinian conflict.