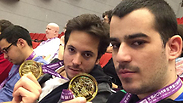 Members of the Israeli bridge delegation hold their gold medals from the World Mind Games in Beijing
The Israeli bridge delegation won the gold medal at the Sportaccord World Mind Games in Beijing on Saturday. This is the first time in the history of the games that Israel has won first place, and the delegation beat out some of the best card players in the competition.

"This is an amazing achievement – historical. It was truly a battle between David and Goliath," Oriya Meir, the associate director of the Israeli Bridge Association, told Ynet.

"This is the hardest category – the group category. We played against delegations that are considered legendary in the field in the world. Unlike our team, who work (other jobs) on a daily basis, mostly in the Hi-Tech industry, the other delegations have professional players who practice every day and play in competitions."

Four delegations participated in the group category at the international competition, considered the Olympics of mind sports: China, Monaco, the United States, and Israel.

The US and Israel reached the finals and Israel beat the American delegation by a large gap.

"We are very pleased. We had a bit of luck but we played excellently in the finals," said Alon Birman, one of the players in the Israeli delegation.

Along with Birman, Lotan Fisher, Ron Schwartz, brothers Ilan and Ofir Herbst, and Dror Padon represented Israel in the World Mind Games.

The successful run at the World Mind Games has come after a string of wins for the Israeli delegation. They received the gold medal at the European championships in the group category and a gold medal in the world championship in the couples category.

The Israeli delegation was scheduled to take part in the world championship for young delegations in Turkey over the summer but skipped out on the event because of security concerns.

The World Mind Games also consist of Chess and Draughts.

"Israel is a superpower in the bridge world," said Meir. "We are given the honor of kings all over the world. If we were to compare (bridge) to soccer, some of our players are considered the Messi and Ronaldo of bridge."

"The leading Israeli competitors are between the ages of 25 and 40. Bridge is perceived as something old and archaic but it has not been so for a while. Israel's amazing accomplishments have been made thanks to the young (players)."

Bridge is trick-taking game that uses a standard 52-card deck. It is played with four players in two competing partnerships. The teams sit opposite each other in a round table and the game is composed of several deals which progress in four phases: dealing the cards (generally computer generated in competitive events), the auction (sometimes referred to as bidding), playing the hand, and scoring the results.

The dealing of the cards and scoring are procedural activities while the auction and playing of the hand are the two competitive phases of the sport.