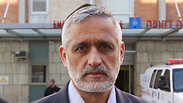 Eli Yishai
Photo: Ido Erez
Shas, an ultra-orthodox Israeli political party, is facing a historic split as Eli Yishai, who headed the party for 14 years and held various positions within it for 30 years, looks set to leave the movement after Shas' Council of Torah Sages instructed chairman Aryeh Deri not to hold a reconciliation meeting with Yishai.

President of Moetzet Chachmei HaTorah (Council of Torah Sages) Rabbi Shalom Cohen instructed council member Rabbi Shimon Baadani not to meet with Yishai on Sunday.

Baadani informed Deri of that, noting that the issue, including any intentions to leave the party, will be handled solely by the Council of Torah Sages.

In addition to that, all of the movement's activists and representatives were ordered not to give interviews on the issue and focus on Shas' upcoming election campaign.

Deri, meanwhile, said he will honor any decision made by the Council of Torah Sages, which seems set to show Yishai the door.

A source close to Yishai said: "Deri has tied his hands and his legs and put a band-aid on his mouth. It will be impossible to work like this. Yishai wants peace and a real union, but the other side is not doing anything to make this happen."

Sources close to Yishai went on to say that "one of the options on the table right now is running with those who left Bayit Yehudi, headed by Uri Ariel. If they stay with Bennett, an 'anyone but Deri' party will be formed. A new Sephardic list like that could bring four mandates. Shas knows that, and this is why they haven't given Yishai the boot so far, despite negotiations blowing up.

"There was no serious initiative from Deri, not even a phone call, only a promise to be no.2 and get a senior minister position. In a party like Shas this has no meaning, and it's mockery as long as he's not getting real authority."

The tensions within the Shas party escalated after the Knesset disbanded this past week and a date was set for early elections.

While Yishai was considering his future in the Shas party, Deri said in closed conversations that he does not "need (Yishai), he only bothers me. We offered him what we offered him out of pity."

Officially, Deri stressed he was awaiting Yishai's decision in an attempt to keep the unity of the party, but in conversations with his supporters and people close to him, Deri only had sharp jabs to relay against Yishai.

"I barely involve myself in this," he said to those close to him over the weekend. "I've done my role. I offered him what I could because there is an interest in us being together. He has rights, even though he caused us a lot of damage during the past year and a half. He undermined over and over again. But the Sephardic public does not like fights, and I want everybody to be united."

The gaps between Yishai and Deri grew very deep over the 19th Knesset's term, after Deri's return to politics.

In recent days, the two sides have been in constant talks using mediators, with Deri offering Yishai the second spot on the party's Knesset list and promised him a senior minister's role if the party joins the next government, while Yishai demanded to take on some of the chairman's authorities.

Each refused to cave, and attempts to reach a compromise have failed. Even rabbis and politicos who tried to mediate between the two gave up.

Yishai has been a Shas MK for 18 years, 14 of which in the head of the party.