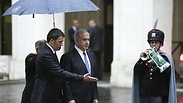 Netanyahu in Italy. (Photo: Retuers)
Photo: Reuters
Prime Minister Benjamin Netanyahu Monday angrily rejected a Palestinian bid to set a UN deadline for an end to Israeli "occupation" in the West Bank amid a flurry of talks led by US top diplomat John Kerry on Monday.

"We will not accept attempts to dictate to us unilateral moves on a limited timetable," Netanyahu said before flying to Italy where he was scheduled to meet with Secretary Kerry.

Amid a renewed drive to push the Israeli-Palestinian peace process to the top of the global agenda, Kerry and Netanyahu met in the US ambassador's sumptuous residence in Rome.

The Americans are seeking to avert an end-of-year showdown at the United Nations Security Council, which could place them in a diplomatic quandary.

The Palestinians have said they will submit an Arab-backed draft text setting a two-year deadline for an end to the "decades-long Israeli occupation of their lands" to the UN as early as Wednesday.

Simultaneously, France is leading European efforts to cobble together a more nuanced resolution which could prove more acceptable to the US administration.

The French text would also set a two-year timetable, but for concluding a peace treaty without mentioning the withdrawal of Israeli forces.

Paris is also hoping to seize more of the initiative by not leaving the negotiations solely in the hands of the US.

"The absence of a peace process is fueling tensions on the ground, so it is imperative to make rapid progress on a UN resolution," said French foreign ministry spokesman Romain Nadal.

"It is vital to relaunch the peace talks as soon as possible and on a credible basis to offer some kind of concrete political horizon to the parties," he told AFP.

US officials have said Kerry is aiming to learn more about the European initiative during his hastily-arranged pre-Christmas trip.

Traditionally the US has used its power of veto at the UN Security Council to shoot down what it sees as moves against its close regional ally, Israel. But there is a growing impatience in Europe over the peace impasse amid fears the Middle East risks spiralling into even greater chaos.

Meanwhile, several European parliaments have called on their governments to move ahead with the recognition of a Palestinian state.

US officials told reporters accompanying Kerry that Washington has not yet decided whether to veto or back the French-led UN initiative. The US administration opposes moves to bind negotiators' hands through a UN resolution - particularly any attempt to set a deadline for the withdrawal of Israeli troops from the West Bank.

But a US veto risks running contrary to Washington's avowed aim of a Palestinian state and would anger key Arab allies - many of whom are much-needed partners in the US-led coalition against Islamic State militants.

Netanyahu said that "in the reality in which Islamic terrorism is reaching out to all corners of the globe, we will rebuff any attempt that would put this terrorism inside our home."

"We will stand firm in the face of any diktat," the prime minister said ahead of Monday's talks, which included a brief closed-doors meeting with Italian Prime Minister Matteo Renzi.

Former justice minister Tzipi Livni criticized Netanyahu's statements, saying his marred relationship with the international community will harm Israel's interests in the future.

In an interview with Ynet, Livni said, "Not only Israel will oppose the wording of the Palestinian proposal to the UN Security Council – the Americans will also not be able to live with it. Therefore, the Palestinian version will not be advanced, and if it will be – my prediction is an American veto will be imposed."

"But stopping the Palestinian version will not be enough against the wave of nationalistic attacks which could follow, and the mission ahead of us is to take immediate diplomatic steps to prevent the Palestinians from taking advantage of the situation and move ahead with steps in the International Criminals Court at The Hague, and prevent other international initiatives that will hurt our interests," Livni continued.

"A government that knows how to operate diplomatically, knows how to devote the world towards our interests, and knows how to protect the important strategic relations with the US is necessary (in fighting) against this wave. Today it is clear how much the strategic relationship with the Americans is important," added Livni.

Kerry will later fly to Paris for a dinner meeting with his French, German and British counterparts and the new EU foreign policy chief Federica Mogherini.

He will then travel to London to meet with the chief Palestinian negotiator Saeb Erakat and the secretary general of the Arab League, Nabil al-Arabi, on Tuesday.

French Foreign Minister Laurent Fabius is also to meet with Arabi on Tuesday.

Diplomatic sources say Paris is hoping to persuade the Palestinians to back their compromise resolution, rather than risk a US veto of the more muscular Arab version.

But the Palestinians appear divided, as frustration grows over the snail's pace of diplomatic efforts.

Kerry met first in Rome Sunday with Russian Foreign Minister Sergei Lavrov, who said the talks were "crucial" to stop the situation in the Middle East from deteriorating.

With snap Israeli elections looming in March, some Europeans have pointed to a narrow window of opportunity to push a UN resolution.