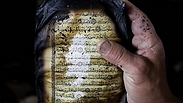 Fire investigators determined fire at mosque in West Bank in November was due to electrical problem.
Photo: Reuters
The fire department said Monday that a blaze last month at a West Bank mosque most likely resulted from an electrical problem, not arson.

The November 12 fire destroyed the first floor of the mosque in the village of Mughayer near Ramallah, and Palestinian residents accused Jewish settlers of setting the blaze.

The fire occurred during a time of high tensions in Israel surrounding the Temple Mount holy site in Jerusalem, which is also the location of the al-Aqsa mosque.

Fire Services spokesman Asaf Abras said that fire investigators, working with police and the Shin Bet security service, believe the fire was an accident.

Abras says investigators found no combustible materials or graffiti at the site. Such items would point to settler vandalism.

According to a report by the Palestinian Ma'an news agency in November, the second floor of the mosque was damaged. Furthermore, while investigators found no evidence of graffiti, Ma'an reported anti-Palestinian graffiti at the mosque.

The Palestinian village's mayor, Faraj al-Naasan, disputed the findings. He said residents have a "strong reason" to believe it was a settler attack because they have carried out other violent acts in the past.