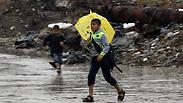 Gaza. 'It is in Israel's best interest to resume the talks on Strip's reconstruction'
Photo: AFP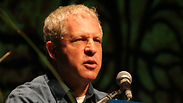 Major-General (res.) Giora Eiland
Photo: Ofer Amram
Since the moment it was decided to move up the Knesset elections, political issues have taken over the public agenda.

There is, however, another side, a hostile side, which does not necessarily take out our agenda into consideration and could create security-related surprises: Hamas in Gaza and Hezbollah in Lebanon.

Paradigm Shift

Op-ed: After countless operations and three major battles, it's time for a different policy which will lead to a long-term, stable truce on southern border.

Beyond the obvious need for intelligence surveillance, there are other things which should be done in order to initiate on both fronts.

Hamas agreed to a ceasefire several months ago for two reasons: The price it paid and its understanding that the discussions on the Gaza Strip's reconstruction will begin after one peaceful month. But four months have passed since the ceasefire was reached, and the beginning of these discussions is nowhere in the horizon.

The reason is simple: Egypt was authorized to lead the talks, and the Egyptians are in no hurry both because they are busy dealing with the threatening terror in Sinai and because they are angry at Hamas, which they say is helping those terrorists.

But it is in Israel's best interest to resume the talks too, as the deterrence achieved in Operation Protective Edge won't suffice. Alongside the stick, we should offer a carrot too – an economic rehabilitation of the Strip and a solution to urgent humanitarian problems.

If a process in this direction does not begin soon, we should not be surprised if we return to the circle of rockets and fire, even before the elections.

The calm along the Lebanon border, which has been maintained for eight and a half years now, isn't guaranteed either. It is being maintained because the Israeli deterrence is maintained – both thanks to the proportional attacks in Syria, which are attributed to Israel according to foreign reports, and because Hezbollah is currently entangled in the attempt to help Syrian President Bashar Assad and curb the Islamic State.

And there is a third reason: The Iranian desire to reach a good agreement with the world powers on the Tehran's nuclear program. This reality could easily change; it's enough for a crisis to break out between Iran and the world powers, and Hezbollah will stop restraining itself.

So how do we secure peace along the Lebanon border, even if some of the restraining elements disappear? There is one thing Israel is doing, although too faintly, and that is explaining to the world in advance that if Israel is attacked from Lebanon it could lead not only to a conflict between Israel and Hezbollah, but also to a war between Israel and Lebanon.

The results of such a war would be heavy damage in Lebanon, and because no one is interested in that – not Syria and not Iran, not the Arab countries and not France or the United States – understanding what this might lead to could create ongoing restraint of Hezbollah.

In April 2006, then-Prime Minister Ehud Olmert travelled to Washington to meet with the US President. There were two classic issues on the agenda: Iran and the Palestinians. Some people tried to convince Olmert to present the danger posed by Lebanon as a top priority, but he thought it wasn't urgent and that the issue could be discussed "next time."

Three months later, the Second Lebanon War broke out, and once the fire began, it was too late to explain our stand.

Late IDF Chief of Staff Amnon Lipkin-Shahak once said that we Israelis resemble a person walking in the dark with a flashlight in his hand. He doesn't turn on the flashlight, but when he encounters an obstacle and falls with his face into the mud, he remembers to ask himself how the hell does one escape this situation.

On both issues, Gaza and Lebanon, we should initiate before finding ourselves in the mud.

Major-General (res.) Giora Eiland is a former head of Israel's National Security Council.