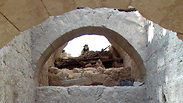 Entryway revealed by archaeologists
Photo: Roi Porat
Archeologists discovered a monumental entryway to the Herodian hilltop palace at the Herodium National Park during excavations over the past year, it was reported Thursday. Thanks to supporting arches, the corridor, which is 65-foot long and 20-foot wide, has been preserved to a height of 65 feet.
The impressive entryway was uncovered by archaeologists from the Hebrew University of Jerusalem. The archaeologists estimate that the corridor was built as part of a plan conceived by Herod to turn Herodium into an artificial volcano-shaped hill, a monument meant to commemorate the architect-King.
Hebrew University archaeologists Roi Porat, Yakov Kalman and Rachel Chachy, who took part in the excavations, noted that it became evident during the excavations that the megalomaniacal project was never carried out and the corridor, which had already been constructed, had likewise never been in use. They further stated, that this happened when Herod decided to turn the place into a massive memorial mound in his honor upon becoming aware of his impending death,
"During the course of the current excavations, the original impressive Palace vestibule, blocked when the corridor became redundant, was also exposed," the university said in a press statement.
The vestibule features painted frescoes, included a majestic entryway that led into it, and according to the statement "offered evidence of the rebel occupation during the Great Revolt (66-71 CE), including Jewish Revolt coinage and crude temporary structures".
The excavations also revealed evidence from the Bar Kokhba Revolt period (132-135/6 CE), including hidden tunnels supported by wooden beams, which exited from the hilltop fortress via the corridor's walls – these tunnels were dug by the rebels "as part of the guerilla warfare they waged against the Romans," the statement said. One of the tunnels even revealed a well-preserved construction built from cypress-wood branches.


Dr. Zvika Zuk, the chief archaeologist of the Israel Nature and Parks, said that it was an amazing finding: "There is nothing like it in the ancient archeology of the Land of Israel."
Shaul Goldstein, Director of Israel's Nature and Parks Authority,
said that in the future, the excavation of the corridor will allow visitors access to the Herodium hilltop palace-fortress, in the same manner that Herod had entered it 2,000 years ago.
Next week, The Israel Nature and Parks Authority will offer explanations to the public on the discovery as well as on excavations performed at the site.