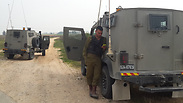 IDF attempts to locate fallen Gaza rocket in Israeli territory.
Photo: Roee Idan
A Code Red siren was heard shortly beforen noon in the Eshkol Regional Council, an Israeli community close to the Israel Gaza border, and was soon followed by blasts, residents reported - indicating that a rocket fired from the Gaza Strip landed in Israel.
IDF forces canvassing the area found the rocket in an open area, and no injuries or damage were reported. This is the third time a Gaza rocket has landed on the Israeli side of the border since the end of Israel and Hamas' 50-day summer war.
The head of the Eshkol Regional Council Haim Yellin warned residents that a diplomatic approach must be taken to restore quiet in southern Israel in a remark after the code red alert this morning, "Whoever thinks that a strong IDF response is the solution for quiet in the Gaza border communities does not understand that wars are decided by politicians, who with courage can bring peace and security. After Operation Protective Edge, the country had an opportunity to establish a long-term arrangement. Instead of this, we found ourselves with a ticking clock until the next escalation and war."
Ilan Yosef, from the Nir Yitzhak kibbutz located in the Eshkol Regional Council, said the alarm was sounded on the first day of a visit by Jewish-American parents visiting their children who had volunteered to serve in the IDF and were residing in the kibbutz.
"It caused us to jump on our feet, we ran to the shelter. We have American guests who came to visit their children who live with us as part of the Garin Tzabar program. They just arrived today to spend time with their children and we already found ourselves running to the shelter. It was very frightening and not pleasant but we did not hear an explosion and we did not receive any updates regarding a landing," said Yosef.
Other residents of the Gaza border communities described the ongoing tension that has persisted after the deadly summer war with Hamas: "We knew it and we were waiting for this," said Roni. "We are returning to the path. We knew it was only temporarily quiet."
Anat Hefetz, a resident of Eshkol and member of the Future of the Western Negev organization, said, "Ever since the war ended, we have been waiting for the next war. It was known ahead of time. For four months already nothing has been done to prevent this."
According to Hefetz, "The war ended – as if – but nothing was done to change the reality. No initiative was taken. We left the area on the other side to be controlled by Hamas. We also feel this as residents. There are always infiltrations, attempts to shoot rockets and false alarms. It does not surprise us."
According to past experience, if the rocket was in fact fired by Hamas, it could evoke an Israeli response. However, if the rocket was launched by another terror group without Hamas' approval, Israel could let the incident pass, using indirect channels to receive assurances from the rulers of Gaza that they are working to stop any additional fire.
In early November another Code Red siren, indicating an incomng rocket from Gaza, was sounded duing morning hours in Israel's Gaza-border communities. The rocket fell a few meters into Israeli territory inside the Eshkol Regional Council. A few days later, shots were fired towards the Erez border crossing, according to an initial report.
Earlier Friday, Ynet learned that Hamas has begun to renew tunnel construction within Gaza and shifted its military strategy.
According to Palestinian sources in the Strip who spoke to Ynet, after Israel allowed the flow of limited goods and materials into Gaza, a black market for mortar emerged - allowing Hamas to renew construction of concrete slabs used to line the inside of the tunnels.