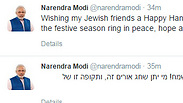 לכתבה! נרנדרה מודי ראש ממשלה הודו מאחל חג חנוכה שמח
From Twitter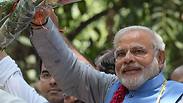 הודו בחירות נרנדרה מודי ראש ממשלה ניצחון
Photo: AFP
Indian Prime Minister Narendra Modi tweeted a happy Hanukkah in both English and Hebrew to to Jews around the world Friday.
Wishing my Jewish friends a Happy Hanukkah! May this Festival of Lights and the festive season ring in peace, hope and well-being for all.

— Narendra Modi (@narendramodi) December 19, 2014
אני מאחל לחבריי בני הדת היהודית חג חנוכה שמח! מי יתן שחג אורים זה, ותקופה זו של חגיגות תבשר שלום, תקווה ורווחה לכל.

— Narendra Modi (@narendramodi) December 19, 2014
Since Modi came to power in May, ties between Israel and India have been in overdrive, with the two signing a series of defence and technology deals that have underscored their burgeoning commercial and political relationship.
In October, India closed a $520 million deal to buy Israeli anti-tank missiles. And last week, a jointly developed aerial defence system passed a major trial, which India called a "milestone".
"There is great momentum in cooperation, on both the defence and economic sides," said Bennett, Israel's economy minister.
India is now the largest buyer of Israeli military equipment, while Israel is India's largest customer after Russia. In the first nine months of 2014, bilateral trade reached $3.4 billion, on target for a record this year.
While that may not be vast in global terms, it has helped push Asia to the brink of overtaking the United States as Israel's largest export market after the European Union.
India is steadily catching up with China as it buys more Israeli defense and cyber-security technology, an area where China is limited since the United States frowns on Israel dealing too freely with Beijing in defence matters.
The roots of the Israel relationship go back to 2006, when Modi was chief minister of Gujarat and visited the region to explore new ideas in irrigation, an area of Israeli expertise.
As a result, India started buying drip-feed technology, said Amnon Ofer, a friend of Modi's and chairman of NaanDanJain Irrigation, formed after India's Jain Irrigation acquired a firm created by two Israeli collective farms.
Reuters contributed to this report