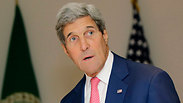 US Secretary of State John Kerry
Photo: AP
US Secretary of State John Kerry has warned EU ambassadors against passing a UN Security Council resolution on the Israeli-Palestinian conflict before Israel's March 17 elections, as such a move could strengthen hardliners on both sides, Foreign Policy reported on Friday, citing European diplomats.

"Kerry has been very, very clear that for the United States it was not an option to discuss whatever text before the end of the Israeli election," a European diplomat told Foreign Policy.

The American diplomat was speaking at an annual private luncheon, telling the 28 EU envoys present that he was approached by former president Shimon Peres and Hatnua leader Tzipi Livni, who had expressed concern an international move to pressure Israel to withdraw from the West Bank and East Jerusalem could reinforce Prime Minister Benjamin Netanyahu and Economy Minister Naftali Bennett - the latter openly opposing peace talks with the Palestinians - as well as hardliners on the Palestinian side.

A senior State Department official told Foreign Policy that "Secretary Kerry made clear in private as he has in public that we don't think any steps should be taken that would interfere with the Israeli election — that's what he conveyed earlier this week.

"He continues to discuss with foreign partners the options for advancing the goal we all share of preventing a downward spiral of events on the ground and creating conditions for resumption of negotiations on a two state solution."

Jordan formally submitted to the United Nations Security Council on Wednesday night a draft resolution calling for peace between Israel and the Palestinians within one year and an end to Israel's "occupation" of the West Bank by the end of 2017.

The draft resolution states that a negotiated solution should be based on several parameters including the 1967 borders, security agreements, and "Jerusalem as the shared capital of the two States which fulfills the legitimate aspirations of both parties and protects freedom of worship."

The text also "calls upon both parties to abstain from any unilateral and illegal actions, including settlement activities, that could undermine the viability of a two-state solution."

The draft resolution obtained by AFP would set a 12-month deadline for wrapping up negotiations on a final settlement and the end of 2017 as the time frame for completing an Israeli withdrawal from territories Palestinian want for their future state.

The Palestinian-drafted resolution was formally submitted to the 15-member council, which means it could be put to a vote as soon as 24 hours later, but it does not guarantee it will happen. Some drafts formally submitted have never been voted.

Diplomats say negotiations on the text could take days or weeks. Jordan's UN envoy Dina Kawar said she hoped the council could reach a unanimous decision on the resolution.

An earlier Palestinian draft informally circulated to the council in October called for an "end to Israeli occupation of Palestinian territory" by November 2016, but the United States and others found this text unacceptable.

Nine votes are needed to adopt a resolution, which would then force the United States, a close ally of Israel, to decide whether to veto it. US Secretary of State John Kerry said on Tuesday the United States had made "no determinations about language, approaches, specific resolutions, any of that."

France, Britain and Germany are also drafting a resolution, which French Foreign Minister Laurent Fabius said would propose concluding peace talks in two years. Other parameters for ending the conflict would also be set, diplomats said. The submitted Palestinian draft appears to reflect some European ideas.

In a shift, Palestinian envoy Riyad Mansour indicated he would not press for a quick vote on the text to allow for more discussion, a move seen as opening the door to possible US engagement at the United Nations on the initiative.

"We will continue negotiating with all of them and with the Americans if they are ready and willing so that we perhaps can succeed in having something adopted by the Security Council to open a serious door to peace," the envoy said.

The Palestinians had earlier said they wanted a quick vote but they backed away, apparently under pressure from Arab countries including Jordan, which is seeking a draft that will be acceptable to the United States.

Israel accepts the "two-state solution" of an independent and democratic Palestinian state alongside Israel, but has not accepted the 1967 borders as the basis for final negotiations, citing security and other concerns.

The US administration opposes moves to bind negotiators' hands through a UN resolution - particularly any attempt to set a deadline for the withdrawal of Israeli troops from the West Bank.

AFP, Reuters and the Associated Press contributed to this report.