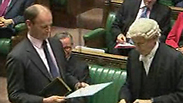 Britain's parliament during a vote on Palestinian statehood.
Photo: AFP
What exactly goes through the minds of intellectuals when they sign a petition that urges European parliaments to support the Palestinian Authority's demand for statehood?
One can understand intellectuals, and even justify their actions sometimes, when they work to promote human rights, when they protest mass killings, when they demand equality for disadvantaged groups.
But what the hell qualifies them to poke their long noses into political issues and developments?
After all, the Palestinians have time and again rejected the offer of a Palestinian state alongside Israel.
Moral Duty
Op-ed: Giving up on the option of reconciliation and coexistence with the Palestinians casts a heavy shadow on the State of Israel's existence, novelist A.B. Yehoshua writes.
After all, they've rejected the formula of two states for two peoples time and again too.
After all, Mahmoud Abbas has made it clear, recently too, in an interview with Akhbar Alyoum, that his opposition to a Jewish state is a direct consequence of his demand for the right of return.
After all, his appeal to the European states and United Nations is not designed to promote a peace settlement, but to dodge the formula of two states for two peoples instead.
In other words, the Palestinians' appeal to the parliaments of Europe is not born out of frustration. It's an appeal that stems from the fact that they are rejectionists.
They rejected the Clinton offer. They rejected Olmert's proposal. They rejected John Kerry's draft proposal. They demanded the so-called right of return time and again. And in his last interview, Abbas spoke of "six million who want to return to their homes, and I among them." And what do our intellectuals do? They back Abbas.
* * *
A.B. Yehoshua, Amos Oz and David Grossman are the prominent names among the signatories. The Italians calls them "the three tenors." They are patriots and Zionists, and this is precisely why their actions are enthusiastically welcomed by the Israel haters.
Their appeal doesn't contain a single word on the Palestinian demand for the right of return. It doesn't demand recognition of the formula of two states for two peoples (as opposed to recognition of two states). There isn't even a hint of criticism of the Palestinians' rejectionist attitude. There's no call for an end to the incitement. Nothing.
Their appeal looks like a Palestinian propaganda leaflet. And as such, their appeal does nothing to serve peace, and primarily reinforces the Palestinian rejectionist approach. It also offers a tailwind to anti-Semitic elements in Europe.
This trio should listen to what is being said in the parliaments of Europe.
In the Irish parliament, for example, Mick Wallace said: "People might forget but, in 1948, the Jews expelled, massacred, destroyed and raped in Palestine… The war in Gaza was a massacre, with Hamas firing toy rockets." And Paul Murphy spoke of "the barbaric nature of the Israeli regime, which regularly slaughters people." There were others, too, like Alan Shatter and Olivia Mitchell, who opposed the appeal because it impedes the chance of a two-state solution.
Why do our discordant tenors insist on supporting those who are closer to Iran and Hamas rather than those who strive for a fair solution of two states – Jewish and Palestinian? What do they know about what happened in the last round of talks with Kerry?
Why the hell don't they do the simple thing and listen to what Abbas and Saeb Erekat say over and over again – no to a Jewish state, yes to a mass return? And why do they insist on serving as emissaries of their propaganda?
* * *
There among the signatories, too, is Yossi Sarid, who was a member of Ehud Barak's government – the same government that went as far as possible, offering the Palestinians a state, the division of Jerusalem and the evacuation of settlements.
And the Palestinians said no. This was the government that accepted the Clinton plan, and the Palestinians said no. So where does Sarid get the nerve to now back the Palestinians, who continue to reject that same plan?
* * *
Israel, one has to admit, is now in the midst of political collapse.
The global Jihad is becoming a genocide mechanism, with tens of thousands dying this year alone; and yet just this week, Europe removed Hamas from its list of terror organizations, the European Parliament decided to support a Palestinian state, and France, which is deep in crisis, became the spearhead of the Palestinian effort.
Our intellectuals weren't to blame for this. It was the result primarily of Benjamin Netanyahu's foolish actions. He indeed demonstrated amazing flexibility during the negotiations. And he also made extraordinary efforts to hide this flexibility.
But topping it all were his repeated declarations about new construction. The countries of the West aren't generally interested to know if the construction is being carried out in the large existing settlement blocs or beyond them, or if the building is taking place in Jewish neighborhoods of Jerusalem that will remain in Israeli hands or as a form of provocation in areas such as Silwan and Sheikh Jarrah.
As far as Europe is concerned, Israel is pressing ahead with its expansion enterprise. Instead of making it clear to the world that his flexibility in the talks was serious, Netanyahu did everything to prove otherwise. The collapse is down to him, and not the three tenors.
But folly does not justify stupidity. And they, in their foolishness, have become servants of Palestinian propaganda.