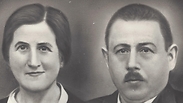 Augusta and Arthur Rauner
Photo: Rauner Family
Four cousins from Israel traveled to a small German town to learn about their heritage. They returned several months later to attend a poignant commemoration of their grandfather.
The town of Hargesheim, population 3,000, is about an hour's drive from Frankfurt. The Rauner family's roots there go back about 120 years, when Michael Rauner settled in town after fighting against the French in the German army. He was buried in the Jewish cemetery that is still preserved in the village.
Artifact Theft
Eight pairs of shoes taken from Majdanek concentration camp museum; police launch investigation.
Arthur Rauner, Michael's son, continued living with his wife Augusta in the family home. Arthur opened a small factory that produced shoe polish. When the Nazis came to power, the couple's four children decided to escape Germany and came to Israel.
"Hugo, my father, escaped right after Kristallnacht, in 1938," said Osnat Lester, Arthur and Augusta's granddaughter. "He told his parents he would pick them up to go to Israel and asked them to wait for him beneath the town clock on a certain day, but when he arrived, the neighbors told him that the Nazis already took them."
In 2010, Lester and three of her cousins decided to organize a trip to Herxheim to learn about their roots. They knew nothing about the town. After flying to Frankfurt, they got a taxi to the village.
"We arrived at the main street and the driver asked where to drop us off," Lester recalled. "We said, 'let us off here, and we'll figure it out', and he refused, demanding to see that we had an address. My cousin saw a house and buzzed the intercom. The owner asked who she was.
"When she said she was from the Rauner family, he opened the door, still wearing pajamas, let us into his living room, and offered us tea and cookies. Within minutes, they called the town historian to the house, and from that moment on they hosted us, took us to the Jewish cemetery, and made sure we lacked for nothing."
The women kept in touch with the town's residents after returning to Israel. Around six months ago, the family received a message from the office of Mayor Werner Schwan, announcing a plan to name a new central street after their grandfather, who died in the Holocaust. Locals remembered that Arthur had been a founder of the town's Athletic and Sports Club.
Rauner's descendants coordinated with German authorities to allow them to travel to the town for the ceremony.
"It was the most emotional thing in the world," said Lester. Everyone in the village arrived. There were 15 of us family members, all the cousins, and there was an amazing sense of coming full circle."