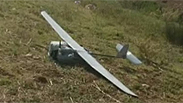 An Israeli drone (Archive)
The Syrian army said Sunday that it shot down an Israeli unmanned aerial vehicle over Quneitra, media in Syria and Lebanon reported.
The UAV, reported a Skylark I model, was downed near the Druze village of Hadar, a stronghold of President Bashar Assad.
An IDF spokesperson announced that they had no knowledge of a UAV falling or being downed in the north.
Foreign media reported earlier in the month that Israel had conducted airstrikes on targets in Syria. Arab media claimed that eight Israel Air Force warplanes participated in strikes close to the international airport on the outskirts of Damascus.
The target, the reports said, was most likely a warehouse containing new Russian-made anti-aircraft missiles that were en route to Lebanon.