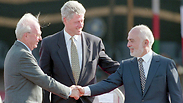 Clinton with Rabin and King Hussien signing a peace agreement between Israel and Jordan
Photo: AP
President Bill Clinton, 42nd President of the United States and Founder of the Clinton Foundation, has agreed to answer questions concerning his involvement in the peace process and his special relationship with the late prime minister Itzhak Rabin. His answers were published in Yedioth Ahronoth's special 75th anniversary issue.

Q. During your involvement in the peace process in the Middle East, what was the moment that moved you the most?

A. The last time Rabin came to Washington, we had a signing ceremony in the White House for the first big handover of land in the West Bank from Israel to the Palestinian Authority. The ceremony was scheduled to occur at noon, attended by a large press contingent and many guests. But before that could happen, Rabin and Arafat met in the Cabinet Room to initial the annex to the agreement, which included several different maps, each reflecting the results of difficult negotiations on control of a multitude of roads, crossings, settlements, and holy sites. About midway through the process, I needed to step out to take a call. A few minutes later, Rabin came out and said, "We have a problem." On one of the maps, Arafat had noticed a crossroads that he was convinced the parties had agreed to turn over to the Palestinians, but was marked as remaining under Israeli control. Rabin and Arafat wanted me to help resolve the dispute. I took them into my small private dining room off of the Oval Office, but then I left them there, alone together for the first time, to come to a decision without any intermediaries.

Within a few minutes, they came out of the room and Rabin said, "He's right. It's his." In other words, the map was wrong. I said, "Well, what are we going to do? The whole press corps is out there, and we don't have time to re-draw the map." They both wanted to sign the rest of the maps as they were and go out to the announcement. Rabin said he would hand over control of the crossroad immediately. When I reminded Arafat that by signing the maps the way they were, he was technically signing away his legal rights, he looked at Rabin and replied, "His word is worth more than any written contract." The level of trust Rabin inspired even in his long-time adversary was an amazing testament to his values, his character, and his understanding that trust is always more precious than words.

Q. Can you tell us about a special moment you and the late prime minister Rabin shared?

A. About ten days before his death, Rabin and I attended a black-tie dinner together at the State Department, where he presented me with the United Jewish Appeal's Isaiah Award. As everyone knows, Rabin had been a soldier most of his life, and so he was never comfortable wearing fancy clothes. In fact, I had read that when David Ben-Gurion sent him on his first-ever diplomatic mission in 1949, he didn't even own a tie. Somebody had to give him one, tie it, and then loosen it, so he would never have to learn how to tie one himself. In 1995, just before our black-tie dinner, he discovered that he'd only brought a straight tie, not a bow tie as the occasion warranted. We borrowed a bow tie from one of my staff, and my last memory of our time together was me straightening his bow tie, with him good-naturedly kvetching the whole time about having to wear it. The moment will always remind me that while Yitzhak Rabin was a great man, he was also an ordinary yet interesting man. He was also a joy to be with and to work with, and he made you feel better just being around him.

Q. Where were you when you received the terrible news about Rabin's assassination?

A. I'd been enjoying a rare, relaxed day in the White House residence when my National Security Advisor, Anthony Lake, called to tell me that Rabin had been shot while leaving a huge peace rally in Tel Aviv. He said that Rabin had been rushed to the hospital, and for a while that's all we knew. I called Hillary, who was upstairs working on her book, and told her what had happened. She came down to comfort me. About twenty-five minutes after his first call, Tony called again to say that Rabin's condition was grave, but he knew nothing else. I left the residence and went to the Oval Office, but I couldn't concentrate and I wanted to be alone. I grabbed a putter and a couple of golf balls and headed for the putting green on the White House South Lawn, where I prayed to God to spare Yitzhak's life, hit the ball aimlessly, and waited. About fifteen minutes later I looked up to see Anthony Lake walking down the stone path that led from the Oval Office, and from the look on his face, I knew that my friend was gone.