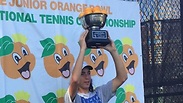 Israeli tennis player comes out on top at at Junior tournament in US
Israeli tennis player Yshai Oliel made history on Tuesday night after winning the Junior Orange Bowl tennis tournament in Florida for tennis players under the age of 14 – a revered tournament considered the unofficial world championships.

Oliel beat his Taiwanese opponent Chen-Jui Ho 7-5, 7-5 in the finals– the 9th player in tennis history to win the tournament twice – Oliel won 1st place in the under age 12 division two years ago.

Oliel, who was ranked first in the competition, beat out his first opponent with little difficulty, and before progressing to the quarter final beat out local William C. Woodall 6-2, 6-7.

In the quarter final, Oliel defeated American Brian Shi 6-1, 6-4 and also was victorious in the semi-finals against Roscoe Bellamy, defeated him 6-2, 6-1.

Oliel continued his winning streak at the finals of the competition held in Coral Gables, Florida, defeating his opponent in two consecutive sets.

Oliel, who is considered one of the most promising tennis players in Israel today, is a resident of Ramla, a mixed Arab-Jewish city in central Israel. The young Israeli tennis player was added to an impressive list of past players who had won both the under 12 and under 14 division championships consecutively. The list includes tennis players who previously ranked first in the world and hold multiple grand slam titles – Andy Murray, Jimmy Connors, Jennifer Capriati and Monica Seles.

Only eight other tennis players have won both championships consecutively during their youth, predicting a promising future for the young Israeli teen tennis player.

Retired tennis player and coach Martina Navratilova, the retired Czech-American tennis player who ranked 1st in both singles and doubles during her career, was the honorary guest of the Orange Bowl and viewed the tournament.

Oliel is part of a group of young Israeli tennis players who receive financial support and professional coaching from millionaire David Cooper.