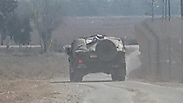 IDF patrol on Gaza border
Photo: Yoav Zitun
An IDF soldier was seriously wounded Wednesday after an IDF patrol convoy sustained sniper fire near the southern Gaza Strip around noon, prompting the army to return fire into Gaza, in the most serious escalation along the southern border since a violent 50-day summer conflict ended.
According to the IDF, the soldier was taken to recive medical care, and his family has been informed of his state.
צילום: רועי עידן ושי שמואלי
According to the IDF, a Palestinian sniper opened fire on an IDF patrol near the Kisufim area in the southern Gaza Strip. The IDF then returned artillery and aerial fire, targeting the sources of the initial fire near Khirbet Hazaa as well as Hamas positions.
A Palestinian report said the IDF fired tank shells into in the southern strip. Hamas sources reported that the head of the local reconnaissance unit in the southern Gaza Strip was killed in an exchange of gunfire with the IDF, while three others were said to be wounded. Hamas sources named the dead man as Tayseer Asmairi.
Hamas said that "Israel is playing with fire and bears full responsibility for the repercussions. It is the Palestinian people's right to defend itself."
Palestinian sources told Ynet that Hamas has begun clearing its outposts and sending its commanders into hiding, fearing retaliatory IDF targeted killings.
Initial evidence seemed to indicate Hamas was behind the shooting, a sharp change in policy by the terror group, which, according to the Israeli defense establishment, has been working to crackdown on rogue militant factions, who have already fired into Israel on a number of occasions since the summer conflict ended.
The IDF ordered farmers in the Eskhol Regional Council to cease all work next to the Gaza border fence.
Despite a cease-fire declared in August following 50 days of war between Israel and Hamas, numerous incidents have broken the quiet in recent months.
In late November, IDF forces shot dead a Palestinian in the northern Gaza Strip, the first such fatality since the war ended. The IDF said two Palestinian suspects approached the security barrier, and soldiers asked them to maintain distance.
A week after that incident, IDF troops shot a 16-year-old boy who approached the security fence in the northern Gaza Strip after he failed to respond to warning shots.
Last week a Code Red siren was heard shortly before noon in the Eshkol Regional Council, an Israeli community close to the Israel Gaza border. IDF forces canvassing the area found the rocket in an open area, and no injuries or damage were reported. It was the third time a Gaza rocket has landed on the Israeli side of the border since the end of the war.
Later that day, the Israeli Air Force struck a Hamas training facility in the area of Khan Yunis in the southern Gaza Strip on Friday night in retaliation.
Elior Levy and Matan Tzuri contributed to this report