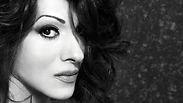 Dana International
Photo: Eitan Tal
Sixteen years after winning the Eurovision with her song "Diva," Dana International has been invited to take part in a special program produced by the British Broadcasting Corporation (BBC) ahead of the annual European song contest's 60th anniversary.

The Israeli diva will appear in the special show alongside some of the competition's big winners over the years, which the network has yet to reveal.

The program is expected to be watched by more than 100 million people across Europe. In Israel, it will be broadcast on Channel 1.

Dana received the BBC invitation several days ago. She was asked to attend rehearsal on March 31, 2015.

The program, which will air shortly afterwards, will include performances of the Eurovision's winning songs, as well as a special clip for each participant.

In 2005, Dana took part in "Congratulations," the Eurovision's 50th anniversary special, where "Diva" was chosen as one of the greatest songs in this history of the competition.