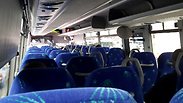 Public transport in Israel is well below international standards, according to data collected by the government.

A white paper prepared by the Knesset Research and Information Center claims Israel's investment in public transport amounts to approximately 1,400 euros per capita, as opposed to some 10,000 euros per capita in Western cities around the world. To narrow the gap, Israel will have to invest NIS 256 billion in public transport infrastructure – some NIS 10.6 billion in each of the next 25 years.

Political reasons are behind the lagging investment in public transportation, says Dr. Yoram Ida from the Department of Public Policy at Tel Aviv University. "Public transport users are not a group with influence and their ties to government are weak, thus they are pushed into a corner and receive less."

Conversations with public transport users reveal that almost all have a gripe to voice about the service: "To go from Ramat Aviv to Ramat Hahayal by car takes 10-15 minutes, but the bus first goes via Tel Aviv – a journey of about an hour," one said.

"The closest bus stop to my house in a new neighborhood of Ramat Hasharon is 10-15 minutes away on foot and the buses from there to my workplace in south Tel Aviv run very infrequently, so it takes me almost an hour there and back every day," another lamented.

"The last bus from the industrial area in Ra'anana to Kfar Saba is at six, so as a hi-tech employee who finishes work at around eight, I have no choice but to go by car," and more and more.

Compiled with the help of 15 Minutes, a public transport consumer group, the following are some of the principal shortcomings of the system:
Difficulties getting to work
The public transport system is currently lacking 238 express bus lines to employment areas in the central region.





The Transport and Road Safety Ministry has a plan to improve access by public transport to employment areas in and around Tel Aviv, but it has yet to be budgeted. A paper presented by the ministry to the Knesset in July of this year notes that the low level of service is due to the lack of direct lines to these centers.

The paper advises adding 238 express lines per day to 13 employment areas in the Dan region (central Israel). The most problematic areas include the Holon and Ramle industrial zones, Kiryat Atidim in Tel Aviv, Afek Park in Rosh Ha'ayin and Kiryat Arie in Petah Tikva.

The problem exists of course outside the Dan region, too, with the Har Hotzvim industrial zone in Jerusalem just one example. There is still no bus line that links Har Hotzvim to the Central Bus Station in the city.
Integration failure
"The understanding around the world is that in order to get from one point to another, a commuter will have to make at least one change of means of transport, whether it be from a bus to a train or from one bus to another," says Gil Yaakov, the director-general of 15 Minutes. You can't plan direct lines that go from everywhere to everywhere."

Integration, however, remains one of the major failures of the public transport system in Israel.

This is clearly illustrated by the shaky link between the country's trains and bus stations. In many areas, train travelers are required to walk a long way to the nearest bus stop; and because of the lack of synchronization between the train and bus timetables, public transport users are often forced to spend a lot of time waiting for their next ride.
Lack of infrastructure
Another dramatic finding reported in the paper compiled by the Knesset Research and Information Center notes that the Dan region includes approximately 14 meters of designated public transport routes per 1,000 residents, as opposed to an average of 150 meters per 1,000 residents in the world's developed cities. Thus, unsurprisingly, public transport in Israel's major cities moves at an average speed of 16 kilometers per hour, as opposed to 25kph in in Western cities.

When there are special lanes for public transport, it moves faster and adheres better to schedules. Dedicated lanes also allow bus companies to increase the frequency of their lines without having to stock up on additional buses – because when a bus reaches its final destination faster, it can set out again on another round.

The Or Yarok Association for Safer Driving in Israel conducted an interesting test: How long would it take the cabinet minister to get to the Knesset by public transport?

The test, conducted using the Google Maps and Moovit apps, found that Foreign Minister Avigdor Lieberman would need a little more than two hours (127 minutes) to get from his home in Nokdim to Jerusalem, compared to 33 minutes by car. Defense Minister Moshe Ya'alon would have to set aside 100 minutes to travel to Jerusalem by bus from Maccabim-Reut, as opposed to just 41 minutes by car.