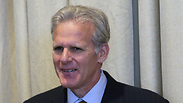 Michael Oren
Photo: Alex Kolomoisky
Former Israeli ambassador to the US Michael Oren will announce he is joining a newly minted center-right party considered to be this elections go-to swing party.

Kulanu, a center-right party formed by political wunderkind and former Likud minister Moshe Kachlon, credited with revolutionizing Israel's telecommunication market and lowering prices for consumers, has held intensive talks with Oren in recent days.

Oren is the first of many expected to announce they are joining the party, which is currently polling at around 10 Knesset seats. Kahlon vowed he would form a party comprised not of politicians but professional 'doers'.

Oren, a resident of Jerusalem, is considered a top notch historian and is a much respected diplomat in Israel, credited for helping Israel-US relations and holding a number of important roles in the government and army.

Oren and Kahlon are expected to hold a press conference Wednesday and Kahlon is set to hold another one Thursday in which he will announce additional names from his much speculated about political ticket.

Earlier Wednesday, Kahlon spoke at Calcalist's forum, and said "today many Israelis cannot look their children in the eye and promise them a better future. The tragedy is that we are a very wealthy country. The country grows rich and the citizens do not feel it. Something in our economic structure is not working, if the citizens aren't feeling it. This must be changed."