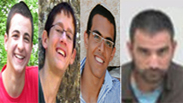 Hossam Hassan Kawasmeh (right) and the three slain teens
The Judea military court on Wednesday convicted Hossam Kawasmeh on Wednesday, after he confessed to his involvement in the kidnapping and murder of Israeli teenagers Gil-Ad Shaer, Eyal Yifrach and Naftali Frenkel in Gush Etzion in June.

Kawasmeh admitted to orchestrating the June 12 kidnapping - executed by Hamas terrorists Marwan Kawasmeh and Amar Abu-Eisha - and spending some NIS 220,000 ($61,300) on weapons and cars used in the crime.

Hossam Kawasmeh was characterized by the Shin Bet as the brains behind the kidnapping, which he planned for many months.

According to the charge sheet, Kawasmeh was charged in for "transferring enemy funds," carrying out services for an illegal organization (Hamas), "deliberately causing the death" of the three Israelis, trading in arms and evidence tampering.
'We wanted to kidnap one, we got three'
The indictment noted that Kawasmeh had asked and obtained the money from his brother Mahmoud, "a Hamas operative who had been expelled to Gaza."

Kawasmeh did not tell Mahmoud he intended to use the money to kidnap an Israel citizen, the indictment said, and the brother started procuring the funds. Several months later, Mahmoud sent Hossam the money in four different envelopes through their mother, except for NIS 70,000 that has been transfered in a different manner, the indictment said.

The three Israeli yeshiva students were shot almost immediately after their abduction, and their bodies were discovered on June 30 near to where they were snatched.

According to the indictment, one of the kidnappers, Marwan Kawasmeh, met with cell leader Hossam after the kidnapping and murder, telling him: "We wanted to kidnap one, we kidnapped three. We ran into trouble. We killed them."

The two then headed to pick up Amer Abu Eisha, the second kidnapper, who was waiting in Hebron. But because of the checkpoints the IDF put up that night, they change their minds and headed to Halhul, where the bodies have been dumped.

Hossam and Marwan loaded the bodies to the escape car, and took them to a land owned by Hossam, where they buried them.

Hossam then helped the two kidnappers hide and provided them with food. At first the two tried to hide in holes and caves in the Hebron area. Later, they contacted Hossam once again asking him to arrange for them a place to stay in a mosque.

After the bodies of the three teens were found on his lands, Hossam Kawasmeh was wanted for questioning over his involvement in the abduction and murder.

He planned to escape to Jordan using fake documentation with the aid of his family members in Hebron - Hisham Kawasmeh, Jamil Kawasmeh, and Hamas operative Hassan Kawasmeh.

Kawasmeh was arrested on July 11 in his hiding place in the Shuafat refugee camp in a joint operation of the IDF and Shin Bet.

Hossam Kawasmeh, 40, served time in Israeli jail from 1995 to 2002 for his terror activity in Hamas. Among other things, Kawasmeh was a part of a cell that committed terror bombings. Some of his family members were also involved in major Hamas terror bombings. His brother, Hassin Kawasmeh, is serving a life sentence for his part in a bombing near the International Convention Center in Jerusalem in March 2011 that claimed the life of a British tourist and left dozens of others wounded.

In his investigation, Hossam implicated several other suspects that were later arrested and confessed to their involvement. He will be sentenced in a few weeks.

The kidnapping triggered a massive IDF arrest campaign across the West Bank in an attempt to locate the three teens. Large IDF and Shin Bet forces worked together to arrest numerous Hamas operatives. After the bodies of the three teens were found, Arab teen Mohammed Abu Khdeir was kidnapped and burned alive by three Jewish extremists. The murder led to large protests in the Arab sector, escalation on the Gaza border and eventually Operation Protective Edge.

Marwan Kawasmeh and Amar Abu-Eisha, the two kidnappers who were hiding in Hebron, were tracked down and killed by SWAT forces in September.

AFP contributed to this report.