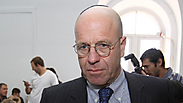 Avraham Burg
Photo: Ohad Zwigenberg
Former Knesset speaker Avraham Burg attended a meeting by the joint Arab-Israeli party Hadash (historically affiliated with the communist party) which took place in Nazareth Saturday and expressed his support for the leftwing party.

"In the next elections I will support Hadash," he said, though it is far from certain he will run for a spot on their Knesset ticket.

A source from within the party, which touts a list of both Jewish and Arabic contenders, most famously MK Dov Khenin, said that "Burg has joined Hadash, and it is possible he will run in the party, but at this point nothing is final, but there will be developments in coming days."

After the Israeli government passed a controversial governance law which saw the election threshold go up, Israel's three Arab parties decided to consider the possibility of running together to maximize their respective power.

Balad – a nationalistic party – and Ra'am-Ta'al – a party with a religious Islamist orientation – will probably run together, but Hadash – a joint Jewish and Arab party with roots in Israel's communist party – have yet to decide.

"Until the party decides about running on a joint Arab list, nothing is final," the political source said, explaining that Burg's candidacy was contingent on the decision.

Burg, the son of a prominent leader from Israel's religious-Zionist movement, served as Labor party Knesset member from 1995-1998 and then again between 1999-2004, and also served as the 15th Knesset's speaker.

He also served as head of the World Zionist Movement and the Jewish Agency.