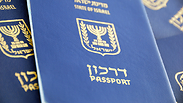 Most requests submitted by Israelis living in Germany, the US, Austria, the UK and the Netherlands
Photo: Shutterstock
The percentage of citizens who made requests to renounce their Israeli citizenship rose by 65 percent in 2014, year-end summaries recently revealed. In the past year, 765 citizens submitted such documents while in 2013 the figure stood at 478, according to data collected by the Administration of Border Crossings, Population, and Immigration and Israeli embassies abroad.
The figures indicated that most of the requests were received by Israelis living in Germany, the US, Austria, the UK and the Netherlands. It was further found that in 2014, the State of Israel approved 635 such applications, while in the preceding year 726 Israelis had their renunciation applications approved.
A large number of Israelis who submitted such requests stated that they had done so because they did not want to hold dual citizenship, or because they wanted to adopt another citizenship, which required them to give up their Israeli passport.
Others claimed they did not want to hold an Israeli passport because they did not want to be subject to the Israeli passport law, which requires them to enter and depart Israel on their Israeli passports, despite the fact that they have an additional passport. Some explained that they simply regarded themselves as permanently settled abroad, and do not see themselves returning to Israel.
Another reason presented by those who wanted to give up their Israeli citizenship was their desire to apply to employment in sensitive positions in their countries; dual passport holders are barred from certain high-security jobs abroad.
The application to renounce Israeli citizenship is submitted to Israeli embassies abroad, and is then transferred to the Administration of Border Crossings, Population, and Immigration, which reviews the request and decides whether to approve or reject it.
The following are general conditions for the approval of the application: it must be submitted in an Israeli embassy abroad, and the applicant must show proof that his life is not centered in Israel and that he has residency or citizenship rights from another country. An individual who does not posses another citizenship cannot renounce his Israeli citizenship without having acquired the citizenship of another state.