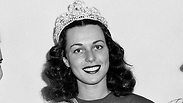 Bess Myerson, the first Jewish Miss America and a New York political force until a series of scandals dubbed the "Bess Mess" forced her into obscurity, has died. She was 90.

Myerson died December 14 at her home in Santa Monica, California, according to the Los Angeles coroner's office and Department of Public Health Vital Records Office. Her death was first reported by The New York Times.

The Bronx-born Myerson was hailed as a groundbreaker for her religion and sex after parlaying her stunning 1945 Miss America victory into national celebrity.

The 5-foot-10 (1.75-meter) dark-haired beauty, unlike her predecessors, accentuated her intelligence. Myerson landed a series of television jobs, from game show hostess to on-air reporter, before her appointment as New York City's chief consumer watchdog in 1969.

The Miss America Organization said in a statement Monday that Myerson would be remembered for her unwavering commitment to equality.

"Bess used her Miss America title to fight anti-Semitism and racial bigotry as she traveled around the country," the organization said.




Bess Myerson was born July 16, 1924, the second daughter of Russian immigrants. Raised in a one-bedroom Bronx apartment, she was beloved by her housepainter father, Louis, and beleaguered by her strict mother, Bella.

By age 12, Myerson was taller and thinner than her classmates – she once played Olive Oyl in a school production. Her natural beauty soon emerged, and older sister Sylvia shepherded Myerson into the Miss New York City pageant in 1945.

Myerson won, advancing to Atlantic City for the Miss America pageant. Organizers urged her to change her name – they suggested "Betty Merrick" – but Myerson refused.




Her title, captured as the horrors of the Holocaust were coming to light, made Myerson a hero to her peers. Walking down the stage to cries of "Mazel tov!" from Jews in the audience, Myerson later recalled thinking, "This victory is theirs."

Not content with the stereotypical role of Miss America, Myerson left an exploitive vaudeville revue and mounted a speaking tour for the Anti-Defamation League.

Myerson remained socially aware through the years. She received the ADL woman of the year award in 1965, the same year she began a seven-year stint as chairwoman of the Bonds for Israel fund.





After surviving ovarian cancer in the early 1970s, she took the lead in battling that disease. She was appointed to committees by Presidents Lyndon Johnson, Gerald Ford and Jimmy Carter.

The popular Myerson helped Ed Koch win New York's 1977 mayoral race, deflecting rumors of the bachelor candidate's homosexuality – which he neither confirmed nor denied – with her constant presence at his side. "The immaculate deception," cynics called it after the couple shared an election night victory kiss.




She made her own bid for office in 1980: an unsuccessful Democratic primary run for US Senate. Three years later, Koch appointed her Cultural Affairs commissioner.

But Myerson's carefully cultivated image crumbled in the mid-1980s under a barrage of political and personal embarrassments that became known as the Bess Mess.

A city background check exposed Myerson as an insanely jealous woman who harassed an ex-boyfriend and his new lover. She repeatedly invoked her right against self-incrimination in a 1986 corruption probe of a subsequent boyfriend, Carl "Andy" Capasso, who was born the year Myerson was crowned.



Capasso, a contractor with purported mob ties, pleaded guilty to nine counts of tax evasion. Myerson, Capasso and a judge also were indicted in October 1987 on a charge of conspiring to fix Capasso's divorce case to lower his alimony and child support payments.

Before that trial began the next year, Myerson was convicted of shoplifting nail polish and earrings from a store. A 1970 shoplifting conviction was also made public.

Although Myerson and her co-defendants were acquitted in the divorce-fixing case, the damage was done. She had already resigned her Koch administration post, and her public career was virtually over.

Myerson's drop was precipitous – occasional appearances at cancer fundraisers or visits to friends' birthday parties. Myerson, who was twice divorced, is survived by a daughter, Barra Grant, from her first marriage.