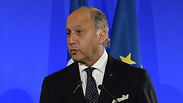 PARIS - France warned the Palestinians on Tuesday against escalating a diplomatic battle with Israel after President Mahmoud Abbas said he would resubmit to the UN Security Council a resolution calling for the creation of a Palestinian state.

The United States helped defeat the resolution, which also demands an Israeli withdrawal from the West Bank, in a Security Council vote on Dec. 30. Abbas said on Sunday he hoped to resubmit the resolution "perhaps after a week".

France, one of the Council's five permanent members, backed the resolution despite some reservations. France's parliament also backed Palestinian independence in a symbolic vote on Dec. 2 that underlined Europe's impatience with a stalled Middle East peace process.

But Paris signalled concern that Abbas' diplomatic offensive - he has also signed up to 20 international conventions including the Rome Statute of the International Criminal Court - could harm chances for peace by antagonizing Israel.

"We are against the logic of letting this spiral (out of control)," Foreign Minister Laurent Fabius told reporters.

"While we think the Palestinians have the right to move the status quo, at the same time there has to be an effort to find a consensus solution. Once you set this cycle off, you get results that you don't want one way or another."

Separately, the European Union criticized a decision by Israel last week to withhold critical tax revenue from the Palestinians in retaliation for Palestinian moves to join the International Criminal Court.

EU foreign policy chief Federica Mogherini said the decision runs "counter to Israel's obligations under the Paris Protocol", signed in 1994, which established the economic relations between Israel and the Palestinian territories and became part of the Oslo Accords.

She warned in a statement that recent steps by both Palestinians and Israelis could aggravate a tense situation and move them further from a negotiated solution.

"An effective Palestinian Authority, committed to non-violence and a peaceful resolution of the conflict, is a key element for a two-State solution," Mogherini insisted.

"In this regard, the EU is providing considerable support, including financial assistance, to ensure the building of the institutions and infrastructure of a future Palestinian State. These achievements should not be put at risk by not meeting obligations regarding the timely and transparent transfer of tax and custom revenues,"

Mogherini added.

Abbas hopes that new countries which joined the UN Security Council on Jan. 1 will be more sympathetic to the Palestinian resolution, which demands an Israeli withdrawal from territories Palestinians want for their future state and independence by late 2017.

France had been working prior to the Dec. 30 vote on a separate resolution with Britain and Germany that aimed to set the parameters and a time frame for new peace talks.

"We worked on this resolution believing we could achieve a consensus but it wasn't possible," Fabius said.

Fabius questioned the wisdom of resubmitting the resolution, adding he would discuss the issue in coming days with Jordan, Egypt and other regional players.