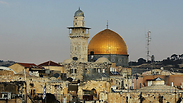 Jerusalem's Temple Mount
Photo: Getty Images
Outposts of moderation in Jerusalem
Op-ed: If Zionism of past came in form of radical terrorist groups, new Jewish pioneering enterprise is moderation. Yes, it is less glamorous – but the only thing that will save us. Those who view moderation as a value should move to Jerusalem, and shape reality themselves.
I found myself short of tomatoes for a salad on Saturday morning and drove, as is my wont, to Beit Safafa to see how the tomatoes in the territories were doing. Only when I was paying did it occur to me just how normal it was for me to do my shopping in the heart of an Arab neighborhood in Jerusalem, a minute and a half after the "third intifada."
A few years ago, a revisionist friend took me for a Friday morning jog in East Jerusalem. He wanted to show me the King's Garden project; and that's how I found myself running to the sounds of Britney Spears alongside a Muslim cemetery. He offered to show me King Solomon's Biblical vegetable garden, and I mostly saw Silwan, an Arab village inhabited by poor people who are mad at us.
Afterwards, in keeping with the Biblical mood, we made our way up Mount Zion towards the Western Wall. Wearing trainers and pink tights, and captivated by the sunrise over the Temple Mount, I thought to myself: Isn't this picture – of a normal life alongside the most spectacular and highly charged location in the world – a creative solution in fact to the conflict?
This, after all, has been the story of Jerusalem since the beginning of time – the city that will forever be a complex one, and will always attract the finest extremists the Land of Israel produces, those who dream of the Third Temple or the destruction of the Zionist enemy. In Jerusalem, you are always fighting in the service of some or other radical ideology. Why else would one be here?
People like me – who want to begin their morning at a café built in Jerusalem stone, who want to go occasionally to one of the Oriental bars in Sheikh Jarrah, who want to eat hummus in the Old City on Shabbat and experience the cool side of the demographic complexity, who believe with all their hearts that Israel should be a Jewish state but see themselves as emissaries of the vision of moderation – are becoming an endangered species here. "Jerusalem," someone said to me recently, "will always be a city of fanatics. Someone who has no yearning for the Temple Mount, from either side of the divide, has no business here."
If the Zionism of the past came in the form of radical terrorist groups, the new Jewish pioneering enterprise is moderation. Yes, it is far less glamorous and romantic, it has less adrenaline – but it is the only thing that will save us.
"Outposts of moderates" in the heart of Jerusalem's Jewish neighborhoods should be the new trend followed by anyone who wants to make a profound change in Israeli society, and not just continue to complain that an assortment of messianic individuals is taking over the capital. Cores of families, leftists and rightists who view moderation as a value and believe all the words we learned in the youth movements, like democracy and tolerance, should pick and move to Jerusalem, and shape the reality themselves – from here, and not from press conferences at Sokolov House or high-profile visit to the Temple Mount.
Living a normal life alongside the residents of East Jerusalem is not a fantasy; to the contrary, it could serve as the most innovative expression of those who see themselves as idealists, who are looking for a life of fulfillment and want to stop the process of transforming the capital of our state into a Crusader-like battlefield in the style of Hebron. Besides, there's some wonderful kanafeh waiting here for you.
Elisheva Mazya is CEO of New Spirit, a non-profit organization set up to encourage young, secular Israelis to remain in Jerusalem.