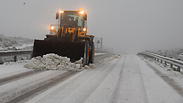 Snow hits Jerusalem
Photo: Yechezkel Blumstein
As many as 17,000 households were left without electricity on Wednesday evening as a massive storm swept through Israel. Most of the power outages are in Netanya, Petah Tikva, Ra'anana, Rehovot, Rishon LeZion, Ashdod and Ashkelon – various other locations throughout Israel were also cut off from electricity.
In Petah Tikva, the Beit Rivka Geriatric Medical Center also experienced a power failure. The facility's backup generators are currently in operation and are keeping life-saving machinery functional. The hospital's management contacted the municipality and requested for blankets to protect the elderly patients from the cold. The Israel Electric Corporation (IEC) said that the problem will be resolved within a few hours.
The IEC further said that the average time it takes to restore electricity is about three to four hours. "IEC teams are currently deployed in the different areas and are working to repair all power cuts. We thank the public for its patience and tolerance," the state-owned enterprise said, adding: "Power outages were experienced across the country due to a malfunction in the supply of gas to the Hagit Power Station."
The electric company estimates that the demand for electricity will reach an all time record in the evening hours, according to data regarding Wednesday's power consumption. The company believes that the peak demand will reach 12,200 MW, compared to the record consumption last year of 11,650.
Snow in Jerusalem
Snow continued to fall in Jerusalem in the evening hours, after a difficult day that included road closures and car accidents. Highway 1 has been closed to traffic from Latrun to Jerusalem. Route 443, the main highway connecting between Jerusalem and central Israel was also closed off.
At least four people throughout the region were killed due to the powerful storm. In Israel, a car accident near Beit Shemesh killed a 13-year-old and wounded two others moderately after a vehicle apparently skidded on the road.
Palestinian authorities in the West Bank and Gaza Strip declared a state of emergency over the storm, after an 8-month-old Palestinian infant in the Tulkarem refugee camp was killed in a fire caused by a heating stove, Palestinian civil defense ministry spokesman Loae Bani Odeh said.


While the storm disrupted life for everyone, it proved particularly trying for the hundreds of thousands of Syrian refugees who live in tents and makeshift shelters in the Bekaa Valley in Lebanon, where a 10-year-old girl was reportedly killed.
In eastern Lebanon, security officials said a Syrian shepherd, Ammar Kamel, 30, and a 7-year-old boy, Majed Badawi, died in the storm Wednesday as they made the dangerous trek in rugged mountains covered with snow from Syria to the Lebanese border town of Chebaa. The officials spoke on condition of anonymity because they were not authorized to speak to the media.
Meanwhile, some 90 centimeters (35 inches) of snow piled up at Mount Hermon. The site's crew is working to get the slopes ready for skiers. Snow was also reported in the Miron area, in Kibbuz Sasa and Beit Jan.
Snow hits Israel (צילום: בהא עבדאללה, מוטי קמחי, אחיה ראב"ד, מיקי רביב, איתי כהן, חטיבת דוברות המשטרה, יוסי צורף, חנוך)
Over 2 mm of snow was registered on the banks of Sea of Galilee (Kinneret), with over 4 mm falling since last night.
Rain accompanied by thunder storms and hail will continue falling in northern and central Israel and will spread to the northern Negev in the night.
Flooding is one of the major concerns as the storm approaches as it is expected to cause the streams of central Irael and other areas to overflow. Furthermore, strong winds are expected to pursist and reach 45-65kph (about 28-40 mph) - with gusts reaching a maximum of 90kphn (59 mph).
In the south, sand storms are expected and could cause haze in central Israel, significantly limiting visibility.
On Thursday, the snow will subside in the northern mountains of Israel. However, light snow or snow mixed with rain could fall in the mountains of central Israel. Local rain will continue falling from northern Israel to the central Negev, but will not be as strong as in the initial phases of the storm. Flooding will remain a concern for streams in eastern Israel, although winds are expected to weaken at this point, while temperatures will continue being significantly lower than average.


Finally, on Friday, light-to-moderate snow is expected to fall and possibly pile up in the early morning, mostly in the central Israeli mountains. Rain will continue to fall in central and southern Israel and temperatures will continue being lower than average.


Precipitation will resume on Saturday around noon in northern and central Israel, accompanied by thunderstorms, gusts of wind and hail. In the evening, rain will spread to the south and Sunday's forecast is also predicted to include rainfall.