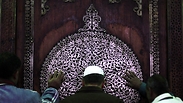 El-Sissi calls for Islamic reform.
Photo: Reuters
Egypt's president opened the new year with a dramatic call for a "revolution" in Islam to reform interpretations of the faith entrenched for hundreds of years, which he said have made the Muslim world a source of "destruction" and pitted it against the rest of the world.

The speech was Abdel-Fattah al-Sisi's boldest effort yet to position himself as a modernizer of Islam. His professed goal is to purge the religion of extremist ideas of intolerance and violence that fuel groups like al-Qaeda and the Islamic State - and lie behind Tuesday's attack in Paris on a French satirical newspaper that killed 12 people.

But those looking for the "Muslim Martin Luther" bringing a radical Reformation of Islam may be overreaching - and making a false comparison to begin with. Al-Sisi is clearly seeking to impose change through the state, using government religious institutions like the 1,000-year-old al-Azhar, one of the most eminent centers of Sunni Muslim thought and teaching.

Al-Azhar's vision for change, however, is piecemeal, and conservative, focusing on messaging and outreach but wary of addressing deeper and more controversial issues.

Al-Azhar officials tout a YouTube channel just launched to reach out to the young, mimicking radicals' successful social media outreach to disenfranchised youth. They proudly point out that clerics in the videos wear suits, not al-Azhar's traditional robes and turbans, to be more accessible.

Young people "have a negative image toward this garb," said Mohie Eddin Affifi, an al-Azhar official. "As soon as they see it they don't listen."

In a more ambitious effort, religious school textbooks are under review. Affifi said texts outlining rules for slavery, for instance, have been removed.

It's a problem across the Muslim world: State religious institutions are burdened by stagnation and heavy control by authorities.

For decades, al-Azhar has lost credibility in the eyes of many Muslim youth who see it as mouthpiece of the state rather than an honest interpreter of religion. More appealing to some young men and women searching for identity in a rapidly changing world are calls for a return to the roots of the faith, including from the extremists of al-Qaeda and the Islamic State.

In his January 1st speech at al-Azhar addressing Muslim clerics - held to mark the Prophet Muhammad's birthday - al-Sisi called on them to promote a reading of Islamic texts in a "truly enlightened" manner to reconsider concepts "that have been made sacred over hundreds of years."

By such thinking, the Islamic world is "making enemies of the whole world. So 1.6 billion people (in the Muslim world) will kill the entire world of 7 billion? That's impossible ... We need a religious revolution."

Radicals - and al-Sisi's Islamist political opponents who have wide religious followings - angrily denounced al-Sisi, saying he was trying to corrupt the religion. Even secularists, who would normally promote a more modern interpretation of Islam, frowned at al-Sisi's statist approach to such a complicated issue. "A state-approved revolution," questioned Amina Khairi, a columnist in the generally pro-state newspaper al-Watan.

And even state religious officials pushed back against the use of the word "revolution" or the idea of dramatic change.

Affifi, from al-Azhar, told the AP that al-Sisi didn't mean changing texts - something even al-Sisi quickly made clear in his speech.

"What the president meant is that we need a contemporary reading for religious texts to deal with our contemporary reality," said Affifi, who is secretary general of the Islamic Research Center. The center is an Al-Azhar body responsible for studying Islamic issues and for providing preachers to explain religious affairs to the police, military, schools, government and private companies. It is also responsible for censorship.

He said al-Azhar has already been working for months on such a campaign, following calls for modernizing the faith that al-Sisi has been making since his May presidential election campaign. Committees have been examining textbooks used in the large network of grade schools and universities that al-Azhar runs across Egypt to remove things that have "no place in modern life." Texts on slavery and on refusing to greet Christians and Jews, for example, have been removed.

Affifi said positions on issues like slavery, jihad and dealings with non-Muslims were adopted by scholars five centuries ago in a particular historical context. "These were opinions of scholars, these interpretations are not sacred."

There is also a push to encourage a nationalism that officials see as moderating religious sentiment. Al-Sisi this week attended Christmas services for Egypt's Orthodox Coptic Christians and declared that Egyptians should not view each other as Christians or Muslims but as Egyptians.

The sheik of al-Azhar has launched a campaign in schools and universities promoting the message that "love of nation is part of faith," said Affifi. Al-Azhar also plans to introduce a new Islamic culture course in all of Egypt's universities, Affifi said.
The Muslim Brotherhood
For al-Sisi, the impetus for his modernization campaign is not only the violence wreaked by extremist groups around the Mideast and the world. It's also rooted in his political rivalry with the Muslim Brotherhood. Al-Sisi, then head of the military, led the overthrow in July 2013 of an elected president from the Brotherhood, and since then Egypt has cracked down hard on Islamists, with hundreds killed in street clashes and thousands jailed.

To counter Islamists' claims of religiosity, al-Sisi has presented himself throughout his rise as a pious proponent of a moderate, mainstream Islam.

At the same time, his government has shown little tolerance for dissent of any kind. That raises a key problem with the "religion revolution" - state control over religious reform could just stifle it. Al-Azhar has always claimed to be the bastion of "moderate" Islam, but it has moved to silence progressive and liberal re-interpretations just as often as radical ones.

"Any religious modernization will ultimately be against al-Azhar, since it is the conservative fortress in the system," said Amr Ezzat, religion researcher at the Egyptian Initiative for Personal Rights. The "authority of religion over modern life and law is what needs to be reviewed. What we need is freedom to have more than one religious discourse to enrich discussion, because as it is pluralism is outlawed."

State control of al-Azhar makes those most vulnerable to militancy least likely to listen.

If the sheik of al-Azhar speaks out against radicalism - as he often does -"no one who is remotely inclined to a violent interpretation will be impressed by that," said H.A. Hellyer, a fellow at the Centre for Middle East policy at the Brookings Institution in Washington. "They will say: You are just an ally of the state, instead of a genuinely independent figure."

Like Ezzat, he says only independent voices can present a counter-narrative to militant thought. But al-Sisi shows no sign of allowing that, Hellyer said.

His idea for the faith "is something rather docile to the needs of the state rather than independent," Hellyer said.