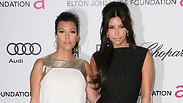 Kourtney and Kim Kardashian
Photo: MCT
After Beverly Hills, Manhattan and Paris, the Kardashian family is entering a real estate purchase in the Holy Land as well.

The Kardashians are said to be in advanced talks for an apartment on 96 Yarkon Street in Tel Aviv for NIS 20 million (about $5 million).

Kourtney Kardashian and her Jewish husband, Scott Disick, have decided that want a house in Israel. A representative of the family arrived in Israel from Los Angeles last week and found the desired apartment on the fourth floor of Faire Fund luxury project, owned by Shlomo Grofman and Zalman Shoval, on the street facing Tel Aviv's beach.

Disick is expected to visit Israel next month in order to sign the contract. He, his wife and their children are not the only ones expected to spend their vacations in the luxurious apartment. So are Kourtney's sisters, Kim and Khloé, who usually share the homes purchased by the family around the world.

"Scott and Kourtney have three children and they informed me that they want to spend Passover and the summer in Israel," says Tomer Fridman, chief executive officer and co-chairman of Sotheby's International Realty, which handles the family's real estate deals. "They are also planning to document their visit to Israel on their reality show."