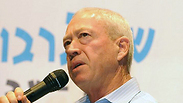 Former Likud minister Moshe Kahlon announced Thursday night that Major General (res.) Yoav Galant, the former head of the IDF's Southern Command, is the latest recruit to his Kulanu party. He is the first security exerpt to join the mostly social minded political party, which is running on an economic more than defense ticket.

Kahlon convened a press conference to announce the recruitment - who at one time looked set to become chief of staff - and announced Galant will received the second spot on Kulanu's Knesset list for the March 17 elections. Next Thursday, Kahlon will announce his entire list - up to spot 30.

Galant, who has recently hinted in Facebook posts that he intends to go into politics, was also touted as a possible name on the Likud list.

The 56-year-old, who started his IDF service as a fighter in the elite Shayetet 13 commando unit, was GOC Southern Command from 2005-2010, including during Operation Cast Lead. He was initially chosen as the 20th IDF chief by then-defense minister Ehud Barak, but the appointment was cancelled over allegations that he had used land he did not own to expand his own home.

The affair started in 1997 when Galant bought 5 dunams in Moshav Amikan, near Zikhron Ya'akov. He and his family moved into a house there in 2000, and a year later asked for permission to build on additional 60 square meters. However, according to the allegations against him, Galant built on 350 square meters rather than the 60 square meters he had requested. This addition included an access road to the house, a large parking area and an olive tree grove - all on private lands owned by the moshav.

Galant also reportedly took over 28 additional dunams adjacent to his plot without a permit.

After he refused to relinquish the land, the Israel Land Administration decided to take legal steps against him. In 2009, Galant relinquished the 28-dunam plot, which was not given to him in the first place. However, he would not give up the larger plot that he was leasing.

In February of 2011, Attorney General Yehuda Weinstein informed the High Court of Justice that "the existing data on Maj.-Gen. Yoav Galant raises significant legal difficulties for the decision to appoint him," adding that "there's doubt as to whether it's ethically appropriate to allow the appointment."

At around the same time, Galant's name was also tied to the "Harpaz Document" affair - a forged document with alleged plan by a PR firm to promote Galant's candidacy for chief of staff, which was leaked to the press in August of 2010. A police investigation determined Galant was not involved in the writing of the document.

Other members of Kahlon's list announced so far include Israel's former ambassador to the US, Michael Oren; Eli Alalouf, the former head of the anti-poverty commission; former Kiryat Shmona deputy mayor Dr. Yifat Sasha-Biton; and Jerusalem Deputy Mayor Rachel Azaria.