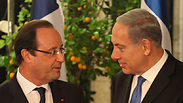 Hollande and Netanyahu in 2013
Photo: Yoav Dodkovitch
Prime Minister Benjamin Netanyahu on Friday asked France to maintain a high level of security around Jewish institutions, following a deadly hostage-taking at a kosher supermarket in Paris that left four dead.
"Prime Minister Netanyahu asked the President of France to maintain a high level of security for Jewish institutions even after a return to normal," Jerusalem sources told AFP, following a conversation telephone between Netanyahu and French President Francois Hollande.
"Our hearts are with the victims' families. Israel will provide any assistance that France could require," the sources said, quoting Netanyahu.
Elite French troops on Friday killed the two suspected perpetrators of the massacre at the Paris offices of the satirical magazine Charlie Hebdo, as well as the gunman behind the hostage situation at the kosher supermarket in the French capital, where the bodies of four people were found after the assault.
Israel had expressed concern about the attack at the kosher supermarket in Paris, which came two days after the deadly attack against Charlie Hebdo.
"Israel is following the situation in Paris with concern," Foreign Minister Avigdor Lieberman said in a statement earlier Friday. "The terrorist attack underway for three days is aimed not only the French people or the Jews of France but the entire free world."
Lieberman spoke of a new "attempt by the forces of evil embodied by radical Islam to spread fear and terror in the West." He said there was a need for the entire international community to "present a wall in the face of this terrorism."