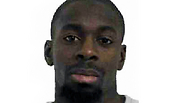 Amedy Coulibaly
Photo: AFP
Amedy Coulibaly, the 32-year-old terrorist who murdered four hostages and critically wounded four more at a kosher supermarket in Paris, had a violent criminal past. In recent years he converted to Islam and became a radical activist for the cause.

On Thursday, Coulibaly murdered police officer Clarissa Jean-Philippe during a routine traffic stop in the Parisian suburb of Montrouge.

Coulibaly, the only son among ten siblings, had a history of violence dating back to his youth. He was convicted for a charge committed when he was 17, serving a sentence in 2001 for armed robbery and drug trafficking.

His connection to Cherif Kouachi, one of the two brothers who committed the massacre at Charlie Hebdo, dates back to 2005, when they served time together at Fleury-Mérogis Prison south of Paris. It is believed Coulibaly – of Senegalese descent – converted to Islam during that time, and began radicalizing shortly after.

When Coulibaly was released from prison in 2006, he started working at a Coca Cola factory near Paris. Three years later, in July of 2009, he was selected to meet then president Nicholas Sarkozy with a group of 500 other youth.

Coulibaly met Sarkozy and even asked for an autograph for his nine sisters. He was quoted in le Parisien saying he was excited to meet the president but that he was not very popular with the urban youth.

According to the British newspaper Telegraph, Coulibaly, a resident of Juvisy in the Essonne area outside Paris, was part of the Buttes-Chaumont network – named after a park in the 19th arrondissement – which recruited Islamic youth to fight in Iraq in the early 2000s.

The group was named after the park in which, according to reports, they would pretend to jog in order to receive orders from their commanders. The network was based out of a mosque in the area and was led by known jihadist Farid Benyettou. Said and Cherif Kouachi – the Charlie Hebdo murderers – were also part of the radical network.

The recruitment network was dismantled by the French authorities in 2005; three years later, Boubaker al-Hakim – one of its chiefs – was indicted for organizing terror attacks.

According to the Telegraph report, both Coulibaly and the Kouachi brothers were devoted followers of Djamel Beghal, a terrorist known for recruiting from the Finsbury Park mosque in north London, where he studied at the hands of radical Islamist cleric Abu Hamza al-Masri.

Beghal, however, is better known allegedly recruiting the "shoe-bomber" Richard Reid and Zacarias Moussaoui, who was indicted for his involvement in the 9/11 attacks.

Coulibaly and his girlfriend, 26-year-old Hayat Boumeddiene, met with Beghal five years ago in southern France, where he had been service a house-arrest sentence, according to reports. That same year, French intelligence services documented Beghal playing soccer with Cherif Kouachi and two other convicted terrorists.

Coulibaly was arrested again in 2010 on the suspicion that he was behind an attempt to break out Smain Ait Ali Belkacem, one of the men responsible for the 1995 train bombing in Paris, out of jail.

A search of Coulibaly's house four years ago – a mere ten months after he met with President Sarkozy – yielded Kalashnikov ammunition. He was placed under arrest and released early more than a year ago. The Kouachi brothers were also arrested over the attempted jail break, but were released due to a dearth of evidence.

During the several hours the Kouachi brothers were cornered in a town outside Paris and Coulibaly held hostages in the kosher market, TV network BFM managed to speak with the attackers.

Cherif Kouachi said he had been sent by "al-Qaeda in Yemen" while Coulibali claimed he had been sent by the Islamic State group and had coordinated with the Kouachi brothers. He added that he took 16 people hostage and murdered four, and that he chose the market "because it was Jewish."