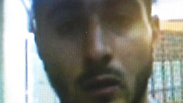 The suspect in the attack
Two Border Guard officers were stabbed about two weeks ago near the Lions' Gate of the Old City in Jerusalem as worshippers were exiting after morning prayers on the Temple Mount.

The guards struggled with the stabber, and during the scuffle another guard was wounded in his hand. Video of the episode was cleared for publication Sunday.

Mohammed Ajlouni, a resident of East Jerusalem, was arrested about a week ago in connection to the attack. He was detained in Ramallah by SWAT officers, with the assistance of the Shin Bet. The suspect confessed during interrogation and said he had hid the knife in the Muslim cemetery next to the Lions' Gate.

He said that when he saw the officers, he removed the knife from its hiding place, ran towards them, and attacked them, intending to kill them. Aljouni's remand was extended until Wednesday, and police said they were preparing to indict the accused.

MDA paramedic Chaim Chaimson and paramedic Hanan Meir said the wounded were entirely conscious. "They were given first aid at the scene, including stopping the bleeding and bandaging." Jerusalem District Commander Maj. Gen. Moshe Adri arrived and said: "This is a serious incident in which police were wounded. Jerusalem police will act to seize the terrorist."

Meanwhile, a 15-year-old Arab boy from East Jerusalem was arrested Friday on suspicion of stabbing a yeshiva student a day earlier at the Damascus Gate in Jerusalem's Old City with a screwdriver. The Jewish youth was moderately wounded and hospitalized at Shaare Zedek Medical Center.

The suspect was located in the Old City and arrested with the assistance of border police. He was taken to Jerusalem District Police for interrogation.