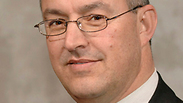 The mayor of the Netherlands' second-city, Ahmed Aboutaleb, sparked a public storm after telling Muslim immigrants who do not respect freedom to "f*** off."

A Tuesday report in the British newspaper the Telegraph said the Rotterdam mayor – who was born in Morocco and immigrated to the Netherlands in 1976 – made the controversial statement after the terror attack at French satirical magazine Charlie Hebdo – in which ten journalists and two police officers were killed.

Rotterdam mayor Ahmed Aboutaleb

Shortly after the massacre in Paris, Aboutaleb appeared on television and told other Muslim immigrants, "if you do not like freedom, in Heaven's name pack your bag and leave," the Telegraph reported.

The 53-year-old "secular Muslim" mayor, born to an imam and raised in Morocco until the age of 15, has been outspoken in his defense of Western values before, according to reports. Following the assassination of Dutch director Theo Van Gogh by a radical Islamist immigrant from Morocoo, Aboutaleb said Muslims must adapt to the Dutch lifestyle or pack up and leave the country.

Aboutaleb was first elected mayor in 2008 and has served since 2009. After his public statements on Muslim immigrants who arrive in West and refuse to accept its lifestyle, the Rotterdam mayor received the backing of popular London mayor Boris Johnson who said he was a "hero" who talked "straight to the point."

"It is incomprehensible that you can turn against freedom," Aboutaleb said on Nieuwsuur (Newshour). "But If you do not like it here because some humorists you don't like are making a newspaper, may I then say you can f*** off."

In the Telegraph report, he added, "This is stupid, this so incomprehensible. Vanish from the Netherlands if you cannot find your place here."