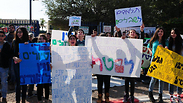 Israeli student strike
Photo: Herzl Yosef
Half a million Israeli high school students stayed at home Wednesday in an unprecedented nationwide strike against a decision to cancel annual field trips, halting classes across the country before officials agreed to reinstate the activities.

The national student council announced late Wednesday that the strike had succeeded, and that students should return to school in the morning. Schools sent out emailed announcements also saying that studies would resume Thursday.

"We have gotten the students back on track," the student council said in a statement.

Education Ministry spokeswoman Hagit Cohen said the strike was in protest against a decision by an organization of Israeli teachers some weeks ago to stop accompanying students on field trips. The trips, often several days long that involve long hikes and camping outdoors, are a rite of passage.

The organization decided teachers would no longer escort students unless they have legal guarantees they would not be sued by the parents should something adverse happen to students during the trips. Cohen said the issue stemmed from a drowning during a previous school trip.

The strike had been scheduled to continue through Friday.

High school classrooms around the country were largely deserted Wednesday, Israeli media reported, though some students reported for previously scheduled exams before going home.

Unlike high school students in most of the developed world, most Israelis go to school six days a week, beginning studies Sunday and finishing them just after midday on Friday.