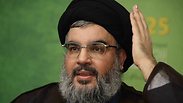 Hezbollah chief Hassan Nasrallah
Photo: AFP
Nasrallah's new-old threat to Israel
Analysis: Hezbollah's secretary-general claims his organization has had Fateh-110 missiles since 2006 – a weapon that could pose a serious threat to high profile targets in Israel. What message is he trying to convey and is there a different 'secret weapon' altogether?
Hezbollah chief Hassan Nasrallah told the group's Al-Mayadeen television channel on Thursday that Hezbollah has had Iranian Fateh-110 missiles that could hit the whole of Israel since 2006.

The Fateh-110 is a long range missile which arrived in Lebanon from Iran directly following Israel's Second Lebanon War in the summer of 2006, and procured for tactical reasons. It is considered a successful make of a generally heavy missile, and thus the Iranians created no less than four different types of the rocket, each longer in range and more accurate than the other.

The fourth type holds a 450 kg warhead and can reach lengths of up to 300 km with accuracy that some put at a few tens of meters. This could pose a serious threat to a number of high profile targets in Israel – like Haifa's oil refiners, the Kirya base in Tel Aviv or airports in the northern and central parts of the country.

The missile has another advantage: Due to its long-range strike capability, it can be launched from the depths of northern Lebanon, an area the Israeli Air Force will have difficulty reaching in a short time – Hezbollah also stationed in the area surface-to-air missiles that it received from Syria in order to protect its launching infrastructure. The rocket's main disadvantage is that in order to fire it, it is set on the exposed launcher platform, where it is vulnerable to detection and interception from the sea, air and even from the ground.

Iron Dome anti-missile batteries were not designed to intercept missiles coming from such distances, because of the high speed in which they land on their targets. However, the anti-rocket system Sharvit Ksamim (Magic Wand) which is still under development, will be able to easily intercept the Fateh-110, but at the earliest will be operational by the end of the year. This weapon will not necessarily help us win a battle against Hezbollah, but it can inflict great damages due to its large and heavy warhead and its accuracy.

Nasrallah's speech was most likely intended to deter Israel from attacking a shipment of this type of missile coming from Iran. In 2013, and probably in 2014 as well, Israel attacked a shipment of the fourth version of Fateh-110 missiles which arrived by air from Iran to Syria, and from there were sent to Lebanon. Nasrallah wants to deter Israel from attacking shipments of missiles, including the Fateh-110, by telling us, among other things, that he already has Fateh-110 missiles, and by making threats to use the weapon.

Meanwhile, the situation has not changed, and it appears that Nasrallah's interview that was broadcast on Thursday does not indicate an intention to change the situation, but rather on the contrary, to preserve it as it is.

I question the assumption that Nasrallah had been speaking of Fateh-110 missiles when he talked about his "secret weapon". He probably meant something else, but did not elaborate, and currently, no certified estimate has been provided to establish what Hezbollah's secretary-general meant.