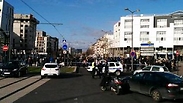 Hostage scene in Colombes
From Twitter
An armed man who earlier took several hostages at a post office northwest of Paris on Friday has surrendered with no one hurt, a French police official told Reuters.

The man equipped with a military weapon took an unconfirmed number of hostages at the post office in the town of Colombes, just outside the capital.

"I cannot confirm or deny whether it is linked to terrorism," an official at the city prosecutor's office told Reuters earlier, declining to give further details.

BFM TV, citing an unidentified source, said the hostage drama was not related to last week's attacks in Paris.

The incident took place after more than two dozen suspects were arrested in Belgium, France and Germany in continuing searches for suspected terrorists, authorities said Friday, as US Secretary of State John Kerry arrived for talks in Paris.

Thirteen people were detained in Belgium and two arrested in France in an anti-terror sweep following a firefight in which two suspected terrorists were killed, and more suspects are being sought, Belgian authorities said.

French and German authorities arrested at least 14 other people Friday suspected of links to the Islamic State group with Europe on alert for new potential terrorist attacks.

Video: Reuters (צילום: רויטרס)

The arrests made in the region south of Paris including Montrouge, where a young policewoman was killed in the attacks, were in connection with suspected "logistical support" for the shootings, an official said.

Meanwhile, Paris police say the Gare de l'Est train station has been closed and evacuated after a bomb threat, as authorities try to prevent new violence after the worst terrorist attacks in decades. A police official says the station was closed "as a precaution." The Gare de l'Est is one of several major train stations in Paris, serving cities in eastern Paris and countries to the east.

Seventeen victims and the three attackers died in three days of violence that began on Jan. 7 with an attack on the offices of satirical weekly Charlie Hebdo.

Reuters and AP contributed to this report.