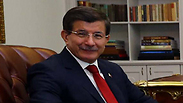 Turkish PM Davutoglu
Photo: AFP
Turkish Prime Minister Ahmet Davutoglu accused his Israeli counterpart Benjamin Netanyahu on Friday of terrorism and said Israeli "provocations" such as the bombardment of Gaza were contributing to radicalization in the Muslim world.

"He himself killed, his army killed children in the playground. They killed our citizens and an American citizen in international waters. This is terrorism. Nobody can argue about Israeli aggression in Jerusalem in the al-Aqsa mosque," Davutoglu told Reuters in an interview.

"These provocations create frustration in the Muslim world and are becoming one of the reasons why these radical trends are emerging," he said. "If we want to establish peace and order in the Middle East, eliminating all the extremist forces, we have to solve the Palestinian question."

Davutoglu on Thursday compared Netanyahu to the Islamist terrorists who carried out attacks last week in Paris, saying both had committed crimes against humanity.

In a wide-ranging interview, Davutoglu said the Syrian city of Aleppo must be protected from bombardment by President Bashar al-Assad's forces before Turkey would consider stepping up its role in the US-led coalition against Islamic State.

"The source of the problem is the Assad regime's brutality... (We want a) no-fly zone... so that Aleppo will be protected at least against the air bombardment and there will be no new refugees coming to Turkey," Davutoglu told Reuters.

He added that Turkey may widen a series of militarized zones along its border with Syria to try to stop the passage of foreign fighters without closing the border completely to Syrian refugees, Prime Minister Ahmet Davutoglu told Reuters on Friday.

"On the border, up to now, there are refugee camps, there are certain places where there is much more strict control... These military zones might be enlarged," Davutoglu said, noting that Turkey had so far been reluctant to do this so as not to deter refugees.