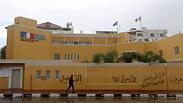 French Cultural Center in Gaza
Photo: AFP
Protest graffiti was sprayed outside the French cultural center in Gaza before dawn Saturday following the publication of a new cartoon of the Prophet Mohammed by satirical magazine Charlie Hebdo.
"You will go to hell, French journalists," read one of the slogans daubed on the walls of the cultural centre compound, which has been closed since it was damaged in a fire last October.
"Anything but the prophet," read another.
Police were deployed outside the compound's main gate as well as on the adjacent main road, an AFP correspondent reported.
The cover cartoon of Mohammed carried by Charlie Hebdo on Wednesday, in its first edition since an attack on its Paris offices claimed by Al-Qaeda killed 12 people on January 7, has sparked angry protests across the Muslim world.
Most Muslims regard any depiction of the prophet as sacrilege.
Last month, a bomb attack claimed by small ultra-conservative Islamist group Jund Ansar Allah caused minor damage to the compound's walls.