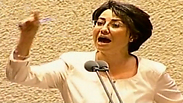 Arab parties held their primary elections on Saturday to choose their candidates for the 2015 elections. Hadash held its primaries in Shefa-'Amr while Balad held its vote in Nazareth.

Attorney Aiman Uda was elected to head the Hadash party. Uda has been active in the party for 15 years, and served as its secretary-general. Balad re-elected MK Jamal Zahalka as its chairman, while controversial MK Hanin Zoabi has won the second spot on the list.

A fight broke out in Shefa-'Amr between dozens of the party's delegates after Hadash's chairman, MK Mohammad Barakeh, announced officially that he would not run in the March 17 elections for the 20th Knesset. Following his announcement, a fight broke out between those supporting his retirement and those objecting to it. The party leaders managed to disperse the fighters.

Barakeh is not the only one to announce his retirement - MK Afu Agbaria also surprised delegates by announcing he would not run for Knesset, and former MK Issam Makhoul, who was supposed to run for the head of the party, announced he decided against it.

The question remains of whether or not the Arab parties choose to unite for their Knesset run, after the threshold was raised to 3.25 percent. Last week, senior officials from the Arab parties said the faction members have yet to reach an agreement on a joint list because of a dispute over spots on the list. "Everyone agree on the principle, but not on the way of execution," the officials said.