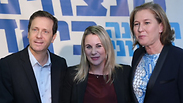 קסניה סבטלובה ערוץ 9 מועמדת ב מפלגת המחנה הציוני ציפי לבני יצחק בוז'י הרצוג
Photo: Motti Kimchi
The Zionist Camp announced Sunday that Russian Channel 9's Arab affairs reporter, Ksenia Svetlova, will be placed in a realistic spot on its Knesset list for the 2015 elections.

Svetlova, a mother of two from Modi'in, is a 36-years-old doctoral student at the Hebrew University in Jerusalem. She did her BA and MA in Islamic and Middle Eastern Studies at the Hebrew University.

In addition to her work on Channel 9, Svetlova has written in the past for The Jerusalem Post, the BBC and the Russian-language Kommersant Daily, among others.

"I believe Ksenia truly represents the essence of Zionism," said Livni at a press conference that took place at Hatnua headquarters in Tel Aviv. "She made aliyah at the age of 14 with her mother, and since then has done here what the great Aliyah from the former Soviet Union did for Israel – changed the economy and kicked us up a notch."

Livni further said of Svetlova that "she is an educated doctoral student who doesn't only interpret, but also examines things in depth. She is a single mother to twin girls, who deals with the daily struggles that every young person encounters in Israel.

"I was Immigration Minister for a few years during Ariel Sharon's tenure, and I'd like to say that until then, I was not aware of a large population of a million immigrants who arrived in Israel, and whose language we don't always speak," Livni added.

"I come from the Middle Eastern eye of the storm to a political storm," said Svetlova at the conference. "I am excited to join the Zionist Camp. I come from the field of communications, and as a journalist, I can testify that the international isolation and our deterioration in the socio-economic department both hurt Israel. We must deal with these issues.

"I know there are many people today on the political spectrum, and I can say that in terms of left, right, and center, we have the right that has become extreme. In the extreme right, Judaism has become messianic. I am a Jew, and I want Israel to continue being a Jewish state in the national sense, and not in a religious sense.

"I believe Israel should be such that everyone can find their place. I have found the right combination in the Zionist Camp."

Besides Amir Peretz, who was placed by Livni in the eighth spot on the joint list, the remaining reservations received by the Hatnua chairwoman are spots number 16, 21, 24, and 25. Commentators suggested that Professor Manuel Trajtenberg would be given the sixteenth spot.

With her inclusion, Svetlova will join the seven women who were placed in the first 25 spots on the Zionist Camp list for the twentieth Knesset.

The seven are Tzipi Livni, second after Chairman Isaac Herzog, Shelly Yachimovich in third, Stav Shaffir in fourth, Merav Michaeli in ninth, Revital Swid in 14, Michal Biran in 19, and Ayelet Nahmias-Verbin in spot 22.

Noam (Dabul) Dvir contributed to this report.