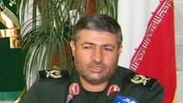 General Mohammed Ali Allah Dadi
Iran's Revolutionary Guard confirmed Monday afternoon that Iranian General Mohammed Ali Allah Dadi was killed in Sunday's attack at Quneitra, which has been widely attributed to Israel.

At the same time, a source close to Hezbollah told the French news agency AFP that the attack on Syrian soil killed six Iranian military personnel, in addition to the six Hezbollah activists whose deaths were reported Sunday night. This brings the total death toll in the attack to 12.

A Hezbollah statement on Sunday named the six killed in the attack as Jihad Mughniyeh, 25; Mohammed Issa, 43 (the only one ranked as commander); Abbas Ibrahim Hijazi, 36; Mohammed Ali Hassan Abu Al-Hassan, 30; Razi Ali Dawi, 27; and Ali Hassan Ibrahim, 22.

Related articles:

According to Ynet analyst Ron Ben-Yishai, it is still difficult to assess the significance and extent of the damage to Hezbollah chain of command. The fate of one person in particular is ambiguous - Abu Ali Tabatbai or Abu Ali Tabatai. Not only is his exact name unclear, it is also not certain that he was killed in the attack.

The question of his identity and the need to clarify whether he was killed are of great importance. The Iranian general in command of Hezbollah fighters and Revolutionary Guard forces in Syria is called Abu Ali Tabatbai, while a senior Hezbollah official named Abu Ali Rada, also known as Tabatai, commands Hezbollah's observation points and possibly a Special Forces unit within Hezbollah.

For now, however, there is still no clear answer who he is or whether he actually died in the attack.