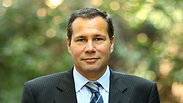 Alberto Nisman
Photo: Michael Kramer
BUENOS AIRES - Alberto Nisman was found with a bullet wound on the right side of his head, a .22 caliber handgun and a casing next to his lifeless body, in the bathroom of his locked apartment, according to a preliminary autopsy that found no evidence of anyone else's involvement in his death.

But what would seem like a clear-cut case of suicide is clouded by the stunning timing of the prosecutor's death, just hours before he was to give potentially incendiary testimony to Argentina's congress about his accusation that President Cristina Fernandez and other top officials protected Iranian suspects in the 1994 bombing of a Jewish center, considered Argentina's worst terrorist attack.

Despite a prosecutor's assertion that Nisman apparently died of a self-inflicted gunshot wound, thousands of Argentines gathered late Monday in the iconic Plaza de Mayo, in front of the presidential residence and in other cities to demand authorities clarify the death. Some protesters, in a twist on France's "Je Suis Charlie" movement, gathered under the slogan "I Am Nisman" and chanted "Justice! Justice!"

"I'm deeply moved by this. I hope the justice system investigates what happened and if the government is responsible that officials are sent to prison," said Fernando Lucero, a 42-year-old lawyer at a demonstration.

Nisman was found in the bathroom of his apartment late Sunday, five days after he had accused Fernandez of reaching a deal with Iran that shielded some officials from punishment for the attack on the Jewish center that left 85 people dead. The government purportedly hoped to benefit from increased trade, oil and financing from Iran.

Search for the truth

Argentine prosecutor probing deadly terror attack at Buenos Aires Jewish community center was determined to uncover the truth.

Investigating prosecutor Viviana Fein said Monday that the preliminary autopsy found "no intervention" of others in Nisman's death. "According to the autopsy, he fired the .22 caliber" handgun, she said.

However, Fein said she would not rule out the possibility that Nisman was "induced" to suicide, adding that the gun was not his and he left no suicide note.

"The firearm belonged to a collaborator of Nisman" who had given it to the prosecutor, Fein told Todo Noticias television channel.

She said told Radio Mitre on Tuesday that no gunpowder residue was found on his hands, though that might be due to the type of gun involved.

Justice for Nisman (צילום: רויטרס)

According to the autopsy, Nisman had a bullet entry-wound on the right side of his head but there was no exit wound. His body was found inside the bathroom and blocking the door, and there were no signs of forced entry or robbery in the apartment, Fein said.

Authorities said they had to call a locksmith to get into Nisman's apartment on the 13th floor of Le Parc tower, a complex of luxury condos in the trendy Puerto Madero neighborhood of Buenos Aires.

Raising more questions about how anyone could have gotten to Nisman to kill him, the prosecutor had 10 federal police assigned to his protection, according to a statement from the Ministry of Security. An adviser to the ministry, who was not authorized to talk to the press and spoke on condition of anonymity, said the agents were posted at the entrance to the building and in a car nearby, and that police were never posted inside the building.

Authorities only went to the apartment when police guarding Nisman, who had received threats, alerted them that he wasn't answering phone calls.

In a letter on her official website, Fernandez lamented Nisman's death, saying it generated "stupor and questions." She initially used the word "suicide" in connection with his death but later put a question mark next to the word.

But doubts remained.

Congresswoman Cornelia Schmidt-Liermann, interviewed before the preliminary autopsy finding, said she had planned to pick Nisman up Monday at his residence and accompany to for his testimony.

"Everybody who had contact with him the last 24 hours says he was confident" about his testimony, she told The Associated Press. "There is no indication, under any circumstances, that he killed himself."

Schmidt-Liermann and others who knew Nisman said he lived under constant threats on his life from Iranian agents and pressure from the Argentine government.

Joseph Humire, executive director of the Center for Secure and Free Society, a Washington, DC-based think tank, said he was to testify with Nisman on a US Congressional subcommittee in July 2013 but Nisman pulled out at the last minute "because of threats from the Argentine government" that he would be fired if he testified.

Nisman was appointed 10 years ago by Fernandez's late husband, then-President Nestor Kirchner, to revive a floundering investigation into the car-bombing of the seven-story Argentine-Israeli Mutual Association building in Buenos Aires.

Argentina has one of the largest concentrations of Jews outside of Israel, with estimates ranging around 200,000, mostly in Buenos Aires.

After years of inconclusive investigations, an Argentine judge in 2006 accepted Nisman's request to order the arrest of a former Iranian president, foreign minister and other officials. Interpol later put most of them on its most-wanted list.

But Argentina and Iran reached agreement in 2013 to jointly investigate the attack, a move viewed with skepticism by Jewish leaders who feared it would undermine Nisman's probe.

Last week, Nisman asked a judge to call Fernandez and others, including Foreign Minister Hector Timerman, for questioning in the case.

"The president and her foreign minister took the criminal decision to fabricate Iran's innocence to sate Argentina's commercial, political and geopolitical interests," Nisman said last week.

On Monday, Timerman said he was sorry to hear of Nisman's death.

"What can I say?" he said from New York. "I'm simply saddened by the death of a person I knew and I hope that the cause of his death can be quickly determined."

A federal judge had begun the process of deciding whether to hear the complaint and whether anyone should be summoned for questioning. Administration officials have called the prosecutor's allegations ludicrous.

Israel's foreign ministry expressed "deep sorrow" over Nisman's death.

"Nisman, a courageous, venerable jurist who fought intrepidly for justice, acted with determination to expose the identities of the terrorists and their dispatchers," a ministry statement said.