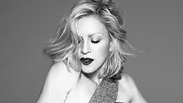 Madonna. Expanded ties to Israel's music industry
An 39-year-old Israeli was arrested Wednesday for allegedly hacking several musicians' computers and stealing unreleased tracks.

An undercover investigation by the Internet crime unit of Israel's anti-fraud police resulted in the detainment of the Tel Aviv resisent, who has appeared on a popular reality TV show, suspected of hacking into several celebrities' computers over the course of several months.

Revolution of Love?

American superstar attacked by Israeli Instagram followers after posting picture of murdered Arab youth Mohammed Abu Khdeir. In response, she adds picture of three murdered Israeli teens.

The suspect allegedly stole unreleased tracks and sold them online. One of the victims was singer Madonna, who had several demos leaked several weeks ago before her entire upcoming album was uploaded.

The investigation began after a complaint by Guy Oseary, Madonna's Israeli-born manager. An expert in Internet crime was sent to New York City to inspect the superstar's computers, where he confirmed a hack originating in Israel.

It continued in cooperation with the FBI, which led to suspicion of a wider hack of several international artists.

Police searched the suspect's home, seizing computers and media storage devices.

Demos from Madonna's upcoming album "Iconic" were leaked on December 17. The singer responded with outrage on her social media accounts.

"This is artistic rape!! These are early leaked demos, half of which won't even make it on my album," she insisted following the initial leak.

Madonna's ties to Israel's music industry have expanded in recent years, particularly following her collaboration with Israeli DJ and producer Offer Nissim.

After Nissim performed as a warm-up act at Madonna's 2012 concert in Ramat Gan, she invited him to warm up the crowd at her concert in Turkey.

Last week an official remix by Nissim of Madonna's latest single, "Living for Love", was released. Madonna launched the remix on her official Facebook page.