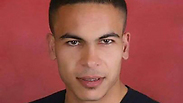 Tel Aviv bus terrorist Hamza Mohammed Hassan Matrouk
Israeli Military Intelligence believes that 2015 will be a volatile year, prone to flare-ups in the Palestinian arena - both in Gaza and the West Bank, and inside Israel. This assessment is pertinent to the attack on Wednesday morning in Tel Aviv, given that a sensitive and explosive Palestinian arena produces lone-wolf terror attacks, from which it is difficult to protect oneself - as Israel has learned from dozens of stabbings and even shootings.

It is possible to profile the "lone-wolf" terrorist. He is usually a young man, in his 20s or 30s, and he is angry, perhaps because he or a family member was wounded by Israeli security forces or arrested and interrogated. Less often, it is someone who is trying to clear his name over crimes committed within Arab society, or is going through a form of "audition" for a terrorist organization.

Another element that goes hand in hand with the personal factors is the overall atmosphere on the Palestinian street, whether as a result of deliberate incitement in the mosques or by politicians, or even due to events in far-off countries. For example, the terrible events in France may also influence radical Islamists in the region. But ultimately what counts is the ability of that person to approach his victims with murderous intent. Not just get into close proximity, but so close to them that they find it difficult to defend themselves.

Related stories:

And there are many cases of so-called "lone-wolf attacks" or "atmosphere attacks" (attacks motivated by the tense atmosphere on the Palestinian street) that involve Palestinians who have entered Israel illegally. The most common case, not only in Jerusalem but also in the rest of Israel and the Palestinian territories, is an attack on public transportation – in buses and at Jerusalem's light rail stations.

These are places where many Israelis are concentrated, and are usually in a place, such as a bus or a train platform, that does not offer an easy escape route, so the victims are stuck in the path of the terrorist. Escaping to the side usually takes the victims out of the line of fire, presumably forcing the terrorist to change course. Usually he does not.

There are also certain steps than can be taken to reduce the risk of "lone-wolf" attacks:

Daunting security presence. The presence of security personnel in uniform and armed at public transport stops, bus and train stations, especially during peak hours, would serve as a deterrent. Not so long ago, Tel Aviv municipality set up a security detail to patrol the streets of the city. This is exactly what Israel Police should do, given intelligence difficulties in identifying the next terrorist.

This kind of presence is almost the only means one can take to prevent such attacks. The prevalent calm in Jerusalem was achieved by flooding the city and its Arab neighborhoods with police officers – both clearly visible and undercover.

Detecting and thwarting illegal entry to Israel. So much has been said about this issue over the years, that there is little to add. This has to be done.

Intelligence from illegal entrants. Given that attacks inside Israel tend to be carried out by Palestinians who have entered the country illegally, it is vital to carry out intelligence gathering in their midst. And this intelligence-gathering should be utterly thorough, both to diminish the phenomenon and also to identify a lone terrorist as early as possible, without human rights violations or democracy being undermined.

Israel must also put an end to another ugly phenomenon that normally accompanies attacks during election season – "dancing in the blood" of the victims. On Wednesday, it was actually Prime Minister Benjamin Netanyahu who took the first step onto this dancefloor, immediately pointing the finger of blame at Palestinian President Mahmoud Abbas. But the signs are that this statement has no grounding in fact,. going on the police investigation into the terrorist. The man acted out of personal motivation.




In the same vein, Avigdor Lieberman's accusations that Arab MK Hanin Zoabi is to blame, and opposition leader Isaac Herzog's claims that Israeli citizens lack security are election clichés. They are even harmful because they resonate and multiply the impact of the attack.

True, stabbing attacks in Tel Aviv may challenge one's sense of security, but Israelis are already familiar with trying times. Dancing in the blood of the victims only serves as an added bonus to terrorists, giving them a sense of satisfaction and encouraging copy-cat attacks.

It seems that the year ahead will be a hard one vis-à-vis security, and as such Israelis should, despite the looming elections, try to maintain a sense of calm and preserve their sanity. In this way, perhaps we can reduce the number of those trying to imitate the handiwork of Wednesday's knife-wielding terrorist.