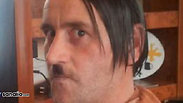 Lutz Bachmann disguised as the Nazi leader
A photo of the founder of Germany's new right-wing populist movement looking like Adolf Hitler surfaced Wednesday, sparking a storm of protest and raising fresh questions about the group's alleged extremist leanings.

Following the uproar over Lutz Bachmann's controversial photo, the German anti-Islam leader announced he was quitting his post. "Yes, I am also resigning as chairman (of Pegida)," Bachman told Germany's Bild.

Oertel said his resignation had nothing to do with the Hitler photo but was linked to comments posted on the internet.

"Yes, I can confirm that Lutz Bachmann has offered his resignation and it was accepted," another PEGIDA co-founder, Kathrin Oertel, told Reuters. She added: "PEGIDA will go on."

Bild daily quoted the spokeswoman for the so-called PEGIDA group, Kathrin Oertel, as saying the picture of Lutz Bachmann disguised as the Nazi leader, which went viral on social media, had been "a joke."

It cited Bachmann himself as saying he had taken the picture, which shows him with the trademark small black moustache and hair swept into a side-parting, around the time of the publication of a bestselling satirical audiobook about Hitler entitled "Look Who's Back."

"One has to be able sometimes to make fun of oneself," Bachmann said.

The 41-year-old, who founded PEGIDA - "Patriotic Europeans Against the Islamisation of the Occident" - in October, posted the picture on Facebook long before he became prominent, regional news outlet MOPO 24 said.

Media reports also claimed that comments allegedly under Bachmann's name had been posted in the past on Facebook referring to refugees as "beasts" and "filth."

Bild said he had not replied when asked if the remarks came from him but had only said: "We no longer comment on private matters."

Dresden's public prosecutor was examining whether there were grounds to open a criminal investigation, including for incitement of hatred, over the alleged comments, a spokesman told AFP.

PEGIDA has held weekly marches in the eastern city of Dresden that have grown over the past three months, voicing anger against Islam and "criminal asylum seekers."

Bild's online news portal cited a PEGIDA deputy leader, Rene Jahn, calling for "consequences" over the photo.

"That's not OK at all. I don't want to have anything to do with such a thing," it quoted him as saying, adding the movement's leadership would meet Wednesday.

"It's about the whole movement here and not just about one person."

Within Chancellor Angela Merkel's conservative Christian Democrats, a debate is raging over whether to engage in dialogue with PEGIDA.

But Merkel's vice-chancellor in the left-right coalition, Sigmar Gabriel, a Social Democrat, said Bachmann had disqualified himself for civilized discussion.

"Anyone who in politics disguises themself as Hitler is either a bit of an idiot or a Nazi," he told Bild.

"Everyone should think about whether to walk behind such rabble-rousers."

On Monday, PEGIDA canceled its evening march in Dresden after police banned all public open-air gatherings within city limits for the day, citing the "concrete threat" of an assassination attempt against the group's leaders.

The group, which had drawn 25,000 supporters to a march in the city the week before, has vowed to rally again next week.

Tens of thousands of people for and against PEGIDA are expected to turn out in the nearby city of Leipzig later Wednesday.

The Dresden PEGIDA marches have sparked much smaller copycat ones in other cities, as well as often much larger counter-demonstrations.

At a press conference Monday, PEGIDA leaders distanced themselves from the far-right and said that most of their supporters were citizens fed up with contemporary politics.

In a list of six core demands, they called for immigration reform modelled on the Canadian system, to attract more skilled professionals and fewer refugees, and for more steps obliging foreigners to "integrate."

Haunted by its Nazi past, Germany prides itself on its efforts to come to terms with its history and is sensitive to any threat to the values and international standing it has fought hard to establish since World War II.

Reuters contributed to this report.